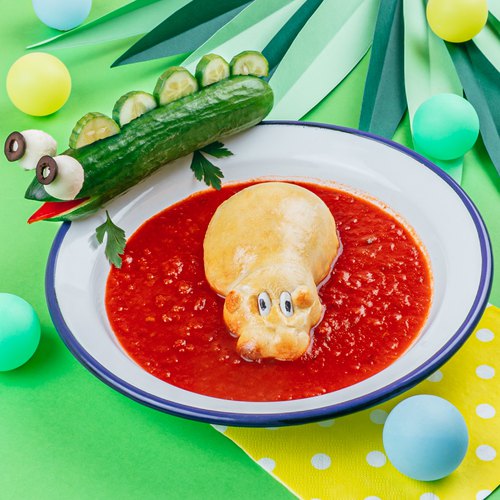 Cucumber Crocodile & Cheesy Hippo
Cucumber Crocodile & Cheesy Hippo! Take a walk on the wild side with the kids 😁🐊🦛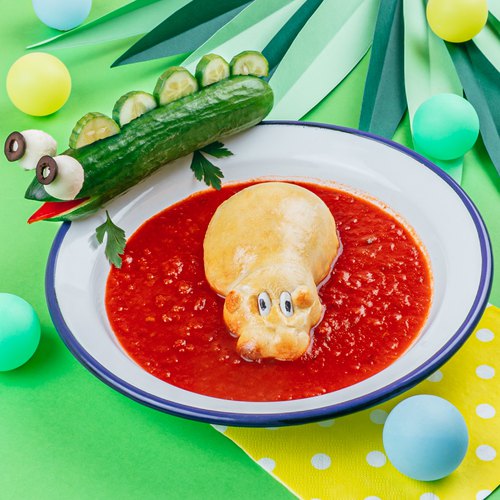 ---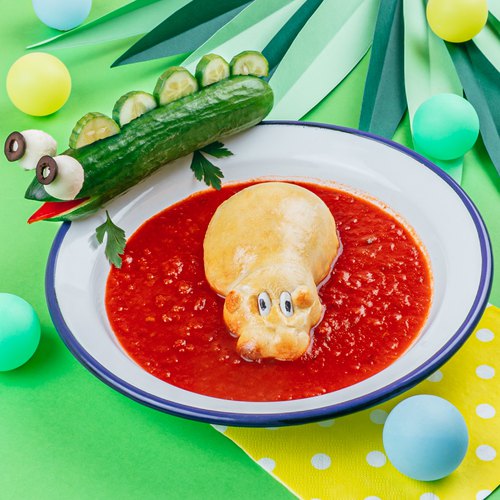 ---
Total time: 45 minutes
Cook time: 45 minutes
Ingredients for 3 people
3 frozen bread dough
Black eyed peas
3 cups of tomato soup
1/4 cup of shredded mozzarella
3 cucumbers
1 red bell pepper
8 black olives
Parsley
8 pints of mini mozzarella balls
1 egg
---
Tools
Chefclub baking mat
chefclub kid's knife
Pastry brush
Toothpicks
---
Step 1/3
Cut cucumbers in half moons for the back of the crocodile. Cut out a V in the front tip of the cucumber to create a mouth. Use toothpicks for the half moons and place them along the top of the cucumber to create crocodile scales. Cut red bell pepper into a triangle to create a tongue. Place mini mozzarella balls on toothpicks for the eyes and slice black olives in rings to create the eyeballs for the crocodile. Add 4 pieces of parsley for the feet.
Step 2/3
Take the thawed bread dough and use the chef cup to create the body, the hen cup for the head, and chicks cups for the snout and ears of the hippo. Take the ball of dough from the Chef cup to make a circle. Fill with 1 mouse of shredded mozzarella. Bring the ends of the dough together and pinch in place to enclose the cheese. Place on a baking sheet and form the head, snout and ears with the remaining dough. Brush with one beaten egg. Bake at 350°F for 15 minutes or until golden brown.
Step 3/3
Heat the tomato soup and add to bowls. Place one hippo in the center of each bowl and serve with the cucumber crocodile. Enjoy!