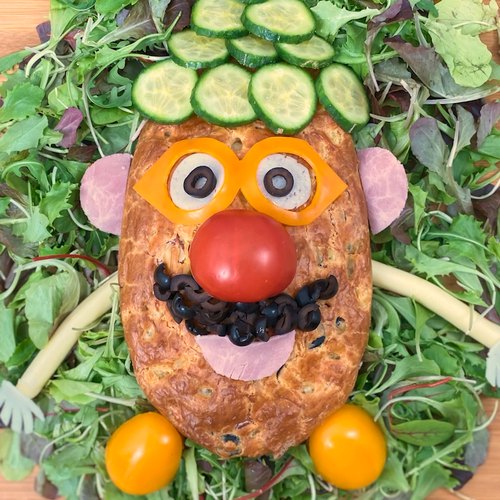 Veggie Potato Man
Veggie Potato Man! A fun & cute bread to make with the little ones!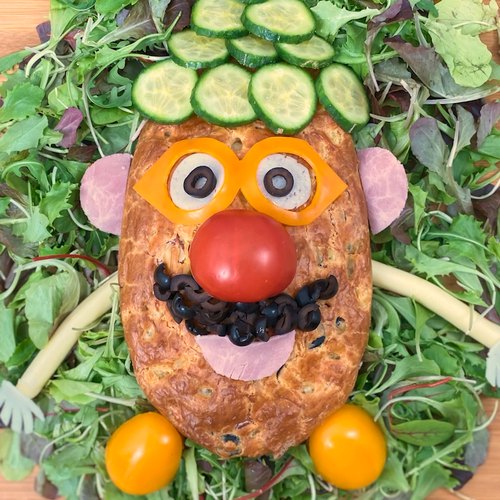 ---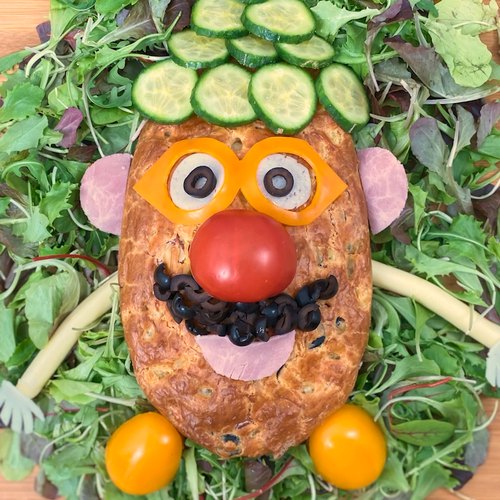 ---
Total time: 25 minutes
Cook time: 25 minutes
Ingredients for 4 people
1.2 cups of flour
4 egg
1/4 cup of olive oil
1/2 cup of milk
Salt & pepper
2 1/2 tsp of baking powder
3 1/2 oz of emmental cheese
2 slices of ham
Black olives
Potatoes
1 tomato
1 yellow tomato
1 goat cheese
1 slice of cheddar
2 string cheese sticks
---
Tools
Giant madeleine mold
Mini madeleine mold
---
Step 1/3
Mix 1 chef of flour with 4 eggs, 1 mouse of olive oil, 1 pig of milk, 1 chick of salt and pepper and 1 hen of baking powder to obtain a smooth batter. Incorporate 1 chef of grated Emmental cheese, 1 pig of ham, 1 pig of black olives and 1 chef of cooked potatoes. Pour the preparation into 4 compartments of the mini-madeleine mold. Pour the rest of the mixture in the giant madeleine mold. Bake for 25 minutes at 330°F.
Step 2/3
Arrange the cake on a board and add salad arount it. Make the ears and feet with the mini-madeleines. Cut the red tomato in half and place one of the pieces face down on the Mr. Potato Head to make his nose. Cut the yellow tomato in half and place the portions on each side of the cake to make the feet. Cut cucumber slices, place them on Monsieur Potato Head to make the hat. Using the hen cup, cut two circles of goat cheese for the eyes. Place 1 black olive on each eye and create a mustache with the rest of the olives.
Step 3/3
Using the mouse cup, make two circles of cheddar cheese and remove the inside with the hen cup to make glasses, place them over the eyes. Place the string cheese sticks on each side of Mr. Potato Head to make the arms. Cut three half-circles of white ham the size of the mini-madeleines for the ears and the mouth. Cut 2 hands out of goat cheese and place them at the ends of the cheese sticks. Serve and enjoy!