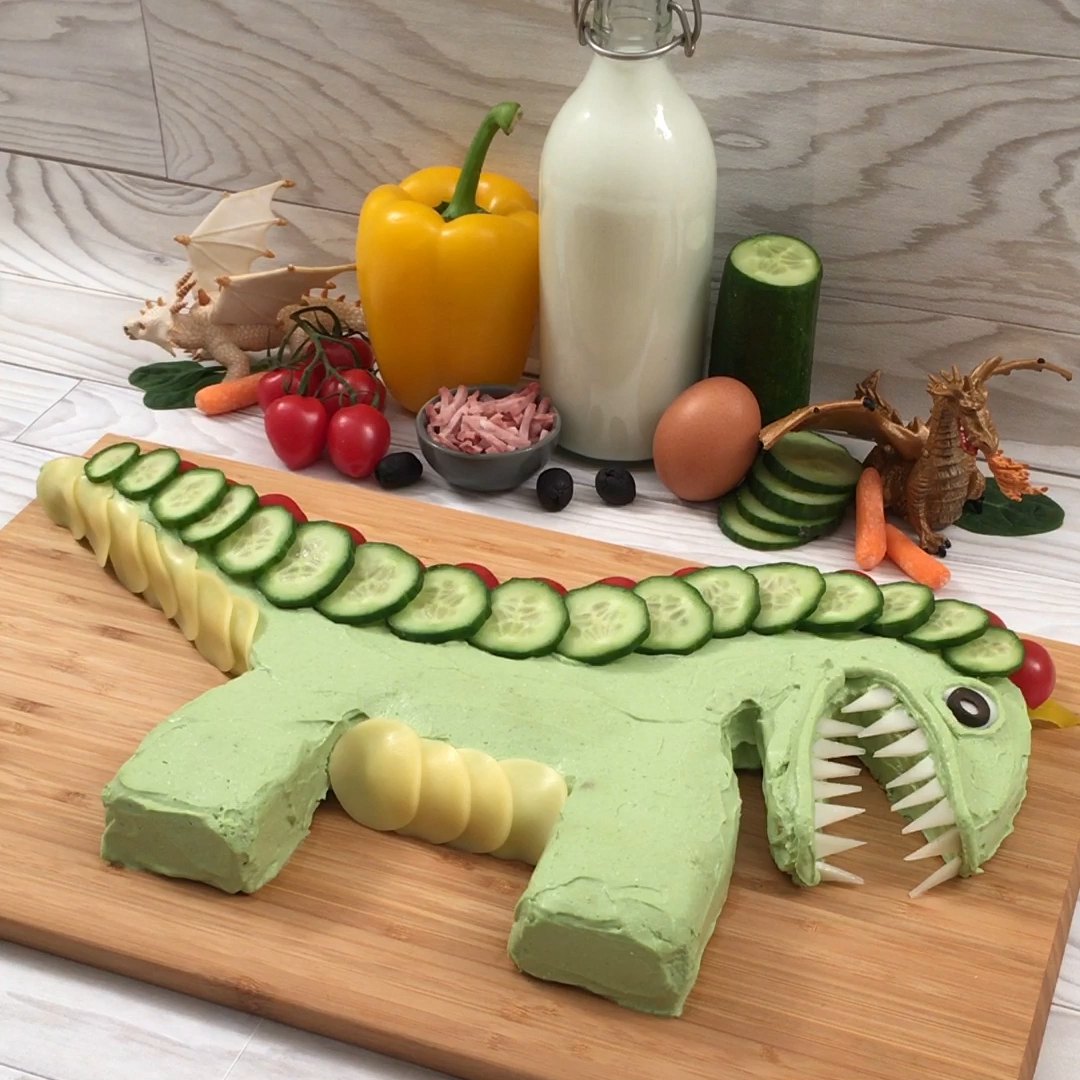 Cheesy Bread Dinosaur
A perfect snack for kids! 🦖🦕
Total time: 40 minutes
Ingredients for 8 people
2 eggs
1 cup flour
1/2 cup milk
1/3 cup olive oil
1 tablespoon baking powder
1/2 cup sliced ham
1/3 cup black olives
1/4 cup cream cheese
1/2 cup grated cheese
1/4 cup spinach, chopped
1 teaspoon salt
1 cup cream cheese, for frosting
1/4 cup spinach juice
4 slices monterey jack
1 slice goat cheese
1 yellow bell pepper
1 package cherry tomatoes
1/2 cucumber
1 tablespoon peas
7 baby carrots
---
Tools
Chefclub Kids' measuring cups
Parchment paper
Whisk
---
Step 1/3
Grease and line a cake pan with parchment paper. In a bowl, combine eggs, 1 chef of flour, 1 pig of milk, 1 cat of olive oil, 1 hen of baking powder, 1 pig of sliced ham, 1 cat of black olives, 1 mouse of cream cheese, 1 pig of grated cheese, 1 mouse of spinach and 1 chick of salt. Mix thoroughly to incorporate all ingredients. Pour batter into cake pan and bake for 30 minutes at 350 °F.
Step 2/3
In a bowl, mix 1 chef of cream cheese with 1 mouse of spinach juice. Whisk until smooth. Remove the cake from the pan and cut it in half. With one half, cut one small slice the length of the half. Cut the remaining piece in half. Cut a thin slice from the top of the triangle slice and a thin slice from the edge of the second half of the cake. You will have 6 pieces in total. Place the largest piece of in the center and place the 2nd and 3rd largest pieces against the top to form the head of the dinosaur. Place 1 thin slice near the end of the head to from the mouth. Place the triangle slice where the tail should be. Cut a rectangle from the bottom of the center piece, cut it in half and add it to the bottom to form the legs of the dinosaur. Lastly, place the thin slice from the edge of the second half of the cake in the against the belly of the dinosaur. Coat the entire cake with "frosting".
Step 3/3
Using the hen measuring cup, cut circles from the monterey jack slices. Cut triangles along the edges of the slice of goat cheese and place in the mouth to form the teeth. Place the circles against the belly and underside of the tail. Cut triangles from the bell pepper and place along the top from the head to the end of the tail. Slice cherry tomatoes in half and place alongside the pepper triangles. Repeat theses steps with cucumber slices. Place peas randomly on the dinosaur, followed by 1 baby carrot at the end of the tail and 3 more baby carrots on each foot. Use the vegetables to dip into the frosting to taste.