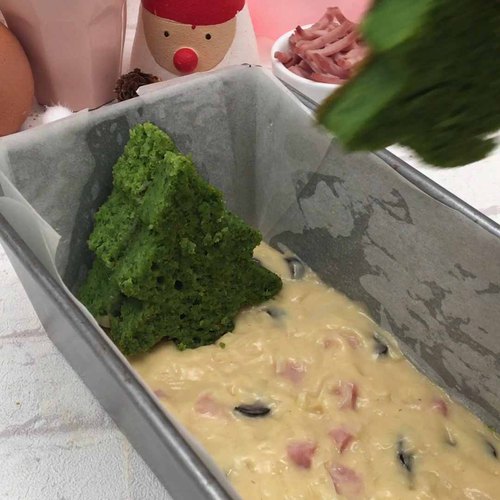 Recipe
Christmas Tree Surprise Bread
A savory treat to make with the kids!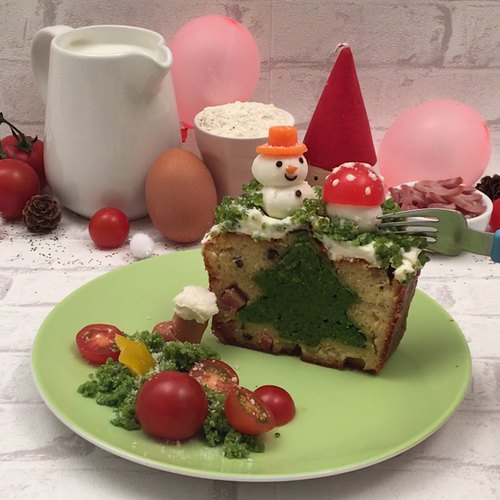 Mix 3 chefs of flour, 8 eggs, 2 hens of baking powder, 1 chef of milk, 1 chef of flavorless oil, and 1 chick of salt. Divide the mixture in two. Add 1 chef of spinach purée to one of the halves and pour it into the loaf pan. Bake for 45 minutes at 350 °F.

Add 1 chef of grated swiss cheese, 1 pig of diced ham, and 1 mouse of black olives to the other half of the mixture. Once the green cake has cooled, cut it in 3 lengthwise pieces. Using the Christmas tree cookie cutter, cut as many trees as possible from these strips of green cake. Keep the scraps.

Spread 1 layer of the dough mixture on the bottom of the cake pan and place the trees standing upright into the better covering the entire length of the pan. Pour the rest of the dough mixture on top to fill the pan. Bake for 45 minutes at 350 °F.

Crumble the green cake scraps. Spread 1 cat of cream cheese on the cake once it has cooled and then cover it with the green cake crumbs.

Pierce two mozzarella balls on 1 toothpick. Add one carrot slice on top and one smaller one to make a hat. Add a nose with a piece of carrot and make the eyes, the smile and the buttons with pieces of black olive. Place the decorations on the cake, sprinkle with 1 mouse of parmesan cheese and then enjoy.
It's ready!
SIGN UP
FOR FREE
TO SEE THE RECIPE
DISCOVER CHEFCLUB KIDS
A new experience made just for kids
Chefclub Kids promotes creativity and autonomy in kids 👨‍🎨
Chefclub Kids makes vegetables the star of the plate 🥕
Chefclub Kids makes it possible to cook and play as a family 💚
ORDER
Recipes that are fun, creative, and healthy
Kids become creators, owners of their recipes
20 easy-to-make illustrated recipes