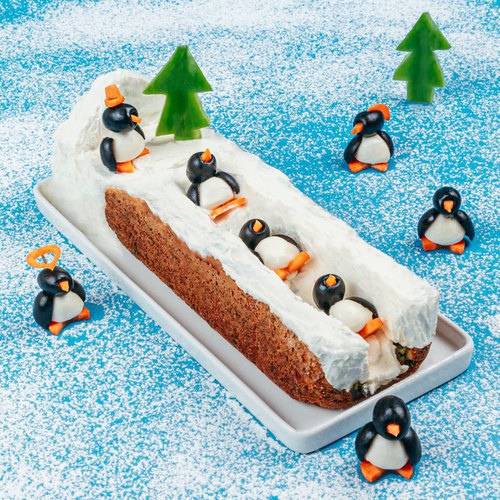 Waddle In Winterland Cake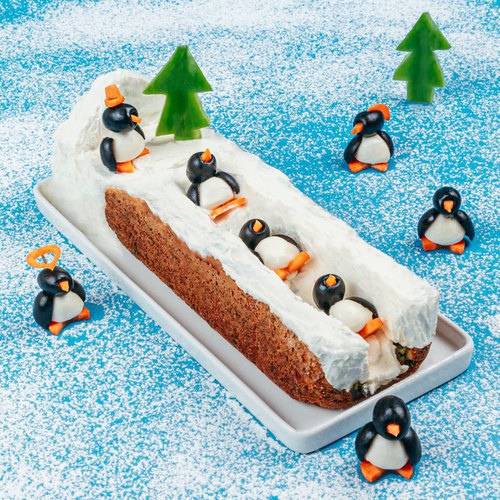 ---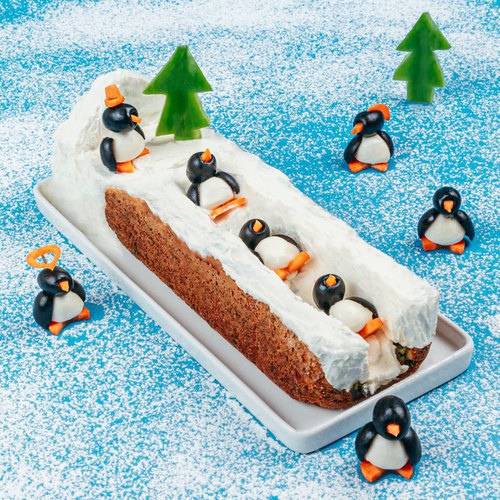 ---
Total time: 1 hour 25 minutes
Prep time: 40 minutes, Cook time: 45 minutes
Ingredients for 8 people
6 egg
2.4 cups of flour
1 cup of milk
10 tbsp of olive oil
2 tbsp of baking powder
2 salt
6 oz of diced ham
4 oz of black olives
4 oz of shredded mozzarella
2 oz of spinach
4 oz of sour cream
18 oz of chefclub vanilla ice cream
6 carrots
16 mini mozzarella balls
2 bell pepper
---
Step 1/3
Mix 3 eggs, 1 chef of flour, 1 pig of milk in a bowl. Add 1 cat of olive oil, 1 hen of baking powder and 1 pinch of salt. Mix.
Step 2/3
Add 1 pig of diced ham, 1 pig of grated mozzarella, 1 pig of spinach, 1 cat of black olives cut into slices, 1 mouse of sour cream and mix. Pour the mixture into the cake tin and bake for 45 minutes at 350°F.
Step 3/3
Cut a rectangle lengthwise into the cake and remove the top. Cut a rectangle in it and place it on top of the cake. Cover the cake with cream cheese. Peel and cut 3 carrots into slices. Cut the carrot slices and the black olives, then assemble them with the mozzarella balls to create the penguins. Form circles with the remaining cake, cover with cream cheese. Cut the bell pepper to form two Christmas trees. Arrange a Christmas tree on the cake and the second on the round cake, then add the penguins. Serve and enjoy!