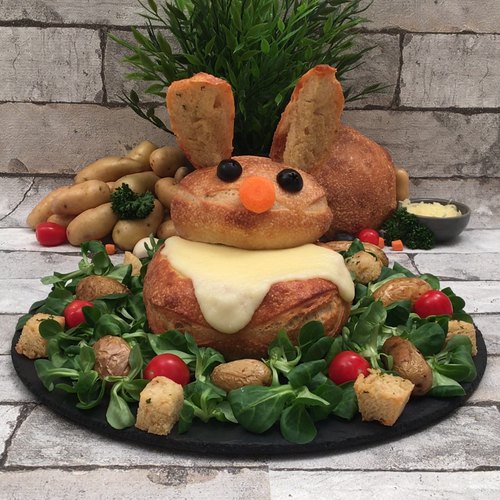 Rabbit Fondue
Not everything is as it seems! 😍🐰🧀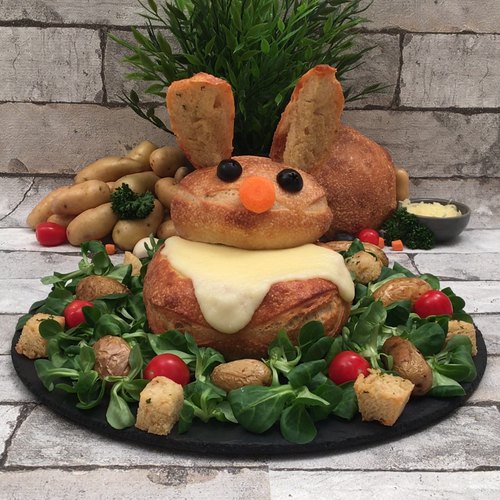 ---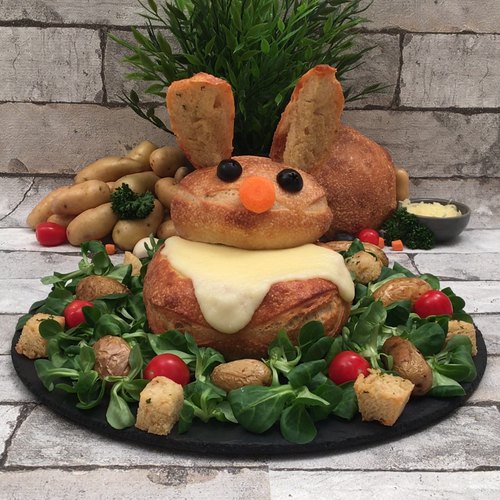 ---
Ingredients for 4 people
2 cob loaves (1 smaller than the other)
2 cloves garlic, minced
1/4 cup of butter, melted
2/3 lb of fingerling potatoes
2 cups of mozzarella, grated
1 carrot
1 black olive
parsley
---
Tools
Baking tray
Parchment paper
---
Step 1/4
Remove the top of the larger loaf of bread and remove the crumb. Cut the crumb into cubes, then cut the top in 3. Keep the 2 side parts intact and cut the central part into cubes.
Step 2/4
Add chopped parsley and chopped garlic cloves to the melted butter and brush the inside of the bread, the 2 rounded pieces, and all the bread cubes with it. Place everything and the potatoes on the baking sheet lined with parchment paper. Drizzle the potatoes with olive oil and bake for 20 minutes at 350 °F.
Step 3/4
Melt the mozzarella and pour it into the hollow loaf. Stick the 2 round pieces standing up in the second loaf to make the rabbit ears. Make a nose with a slice of carrot and eyes with 2 halves of black olive.
Step 4/4
Put the rabbit's head on the cheese-filled loaf and enjoy the fondue by dipping the potatoes and the bread cubes in the cheese.
Similar recipes from Chefclub
-
Our other recipes