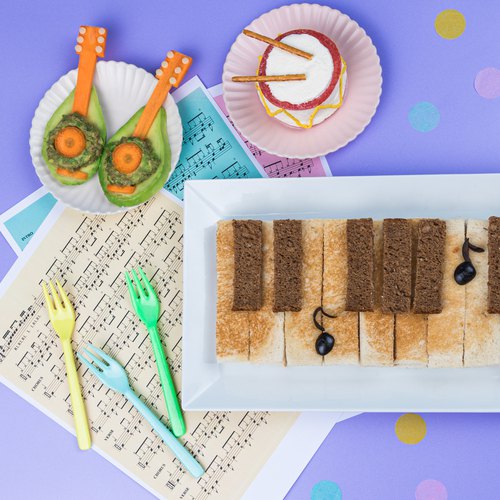 The Musical Picnic
The Musical Picnic! A fun recipe to make with the kids 🤗🎵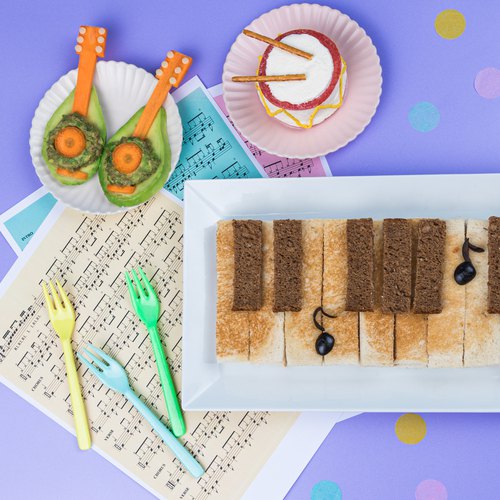 ---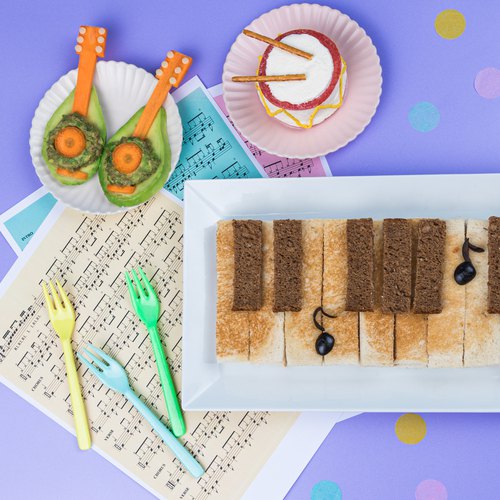 ---
Total time: 50 minutes
Prep time: 45 minutes, Cook time: 5 minutes
Ingredients for 3 people
1 avocado
Lemon juice
1 carrot
2 tomatoes
Mozzarella
6 tbsp of cream cheese
Turmeric
6 slices of bread
3 slices of emmental cheese
2 rye bread
4 black olive
---
Tools
Ziplock bag
---
Step 1/3
Cut the avocado in two, pit it and cut 3 slices of avocado. Soak the slices in 1 hen of lemon juice. Mash the rest of the avocado. Cut 3 carrot slices and 3 carrot strips, forming a rectangle at the end. Garnish the center of the avocado slices with the crushed avocado flesh, place the carrot strips along the length of the avocado and the slices on the avocado flesh. Cut small circles of cheese and arrange them at the end of the strips of carrots to form guitars and set aside in the fridge.
Step 2/3
Cut the tomato and the mozzarella into slices. Place 2 slices of mozzarella between 2 slices of tomato and smooth the outside and the top of the drum with 1 mouse of cream cheese. Mix the rest of the cream cheese, 1 chick of turmeric, place the mixture in a ziplock bag and draw lines on the outline of the mozzarella to form a drum. Repeat the process to have 3 and keep cool.
Step 3/3
Spread 1 hen of cream cheese on 2 slices of sandwich bread, add the ham, emmental cheese and close with the second slice of sandwich bread. Butter each side with 1 hen of soft butter and cook it in a frying pan then cut it into 4 strips. Repeat the process to have 3. Arrange the strips of sandwich bread on a plate. Cut the rye bread into strips, place them over the other to make a piano. Cut the black olives to form musical notes, place them on each dish and enjoy!