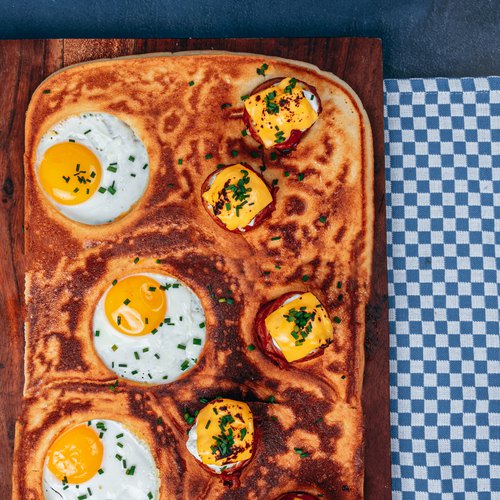 Perfect Breakfast Platter
Perfect Breakfast Platter! The best way to start the day 🌞🥓🍳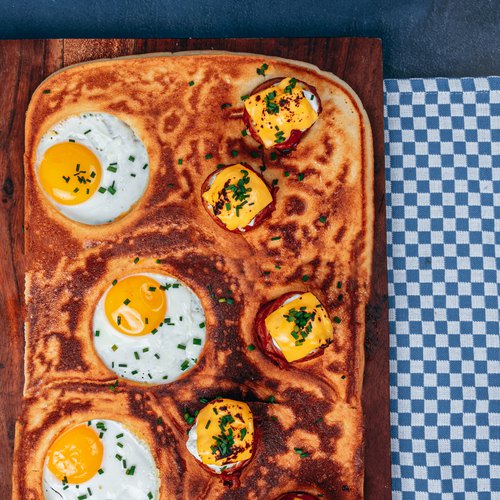 ---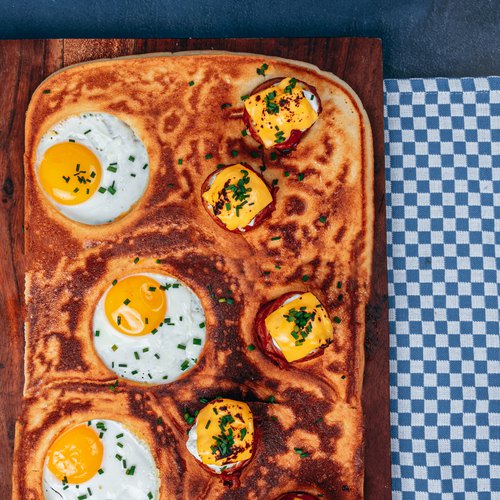 ---
Total time: 55 minutes
Prep time: 20 minutes, Cook time: 35 minutes
Ingredients for 3 people
12 tater tots
12 slices of bacon
2 tbsp of chives
5 egg
1 tbsp of olive oil
1/2 cup of cream cheese
3 slices of american cheese
2 cups of pancake mix
1 cup of milk
1/4 cup of shredded cheddar
---
Tools
Ramekins
Toothpicks
Pizza cutter
Ziplock bag
Spatula
---
Step 1/3
Preheat the oven to 350°F. Heat the olive oil in the pan and add the tater tots. Once thawed, smash each tater tot into a circle. Lightly toast both sides, then remove from the pan and allow to cool. Combine the cream cheese, 2 tbsp shredded cheddar and 2 tsp of chives in a small mixing bowl. Add the cream cheese mixture to a ziplock bag. Wrap the tater tots with bacon and secure with toothpick. Place on baking sheet and pipe cream cheese mixture into each one. Bake 15 minutes. Remove from oven and place a piece of american cheese on top. Bake once more until cheese has melted.
Step 2/3
Combine the pancake mix, milk and 2 eggs until smooth. Heat the griddle and coat generously with cooking spray. Lightly grease the rims of the shot glasses and the ramekins, then add them rim side down to the griddle. Pour the pancake batter around the glasses. Sprinkle the remaining cheddar and chives on the batter and cook until done. Cut into 3 pieces, then remove the glasses and ramekins carefully. Flip and add one egg to each of the holes created by the ramekins. Once the eggs and pancakes are cooked, remove the pancakes from the griddle onto a serving platter.
Step 3/3
Place a bacon shot into each of the holes in the pancake. Sprinkle with chives, serve and enjoy!