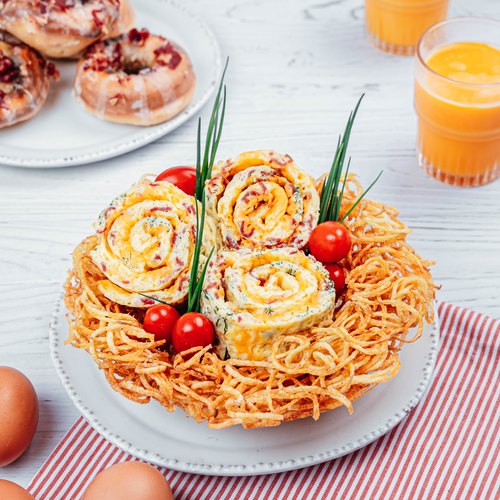 Bacon & Sausage Donuts
Bacon & Sausage Donuts! Served with eggs in basket 😎🥓🍩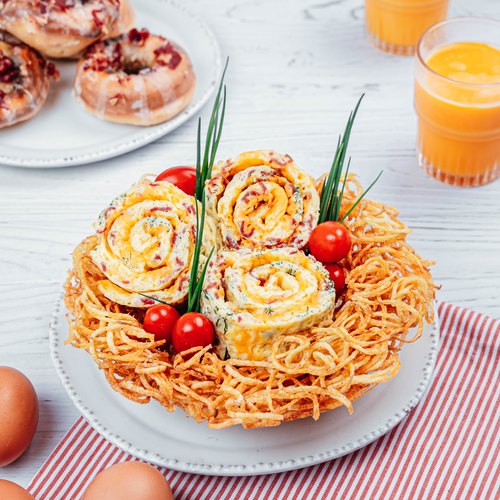 ---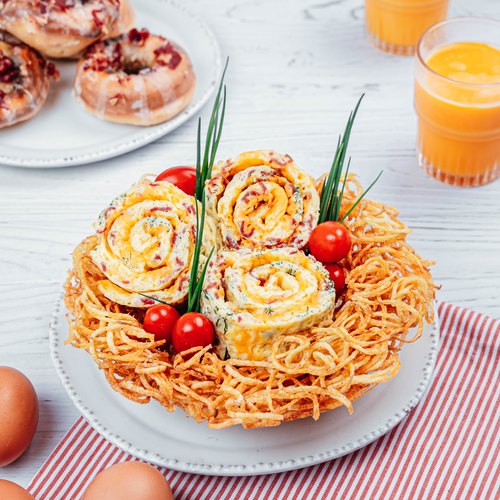 ---
Total time: 1 hour 30 minutes
Cook time: 1 hour 30 minutes
Ingredients for 6 people
1 1/2 l of oil
6 sausages
2 1/2 cups of pancake mix
2 tbsp of sugar
1 1/2 cups of milk
13 egg
2 tbsp of butter
2 cups of powdered sugar
2 1/2 tbsp of maple syrup
1 lb of potatoes
16 slices of bacon
Salt & pepper
Dill
1 cup of shredded cheddar
---
Tools
Toothpicks
Donut pan
Piping bag
Spiralizer
Skimmer
parchment paper
---
Step 1/4
Preheat oven to 375°F. Secure the ends of each sausage link with a toothpick to form a donut shape and place in donut pan. Bake 12-15 minutes (turning halfway through cooking time). Mix pancake mix with sugar, 3/4 cup of milk, 1 egg and melted butter. Add to piping bag. Remove toothpicks from sausages and pipe the batter on top. Bake 12 minutes.
Step 2/4
Fry the bacon in hot oil and chop into pieces. Reserve all but about 1/4 cup of the chopped bacon. Whisk together the powdered sugar, 3 tbsp of milk and maple syrup to make a glace. Coat each sausage donut in the glaze and sprinkle with some crumbled bacon from the 1/4 cup of chopped bacon.
Step 3/4
Spiralize the potatoes and form nests in a pasta skimmer. Fry in hot oil until golden brown and place on paper towels.
Step 4/4
Mix the eggs together with 3/4 cup of milk. Add parchment paper to a baking sheet, then arrange the fresh dill sprigs on the paper. Pour the scrambled egg mixture over the dill, add chopped bacon and shredded cheddar. Bake for 15 minutes. Once cooked cut into slices and add to the potato nest. Serve with the sausage donuts and enjoy!