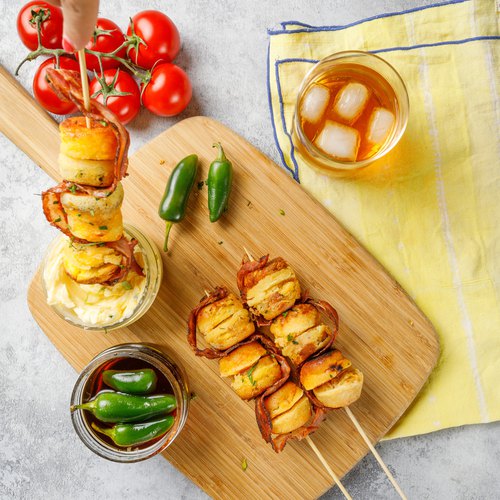 Stick It To Me Skewers
Stick It To Me Skewers! You are going to want to stick to this great recipe 😂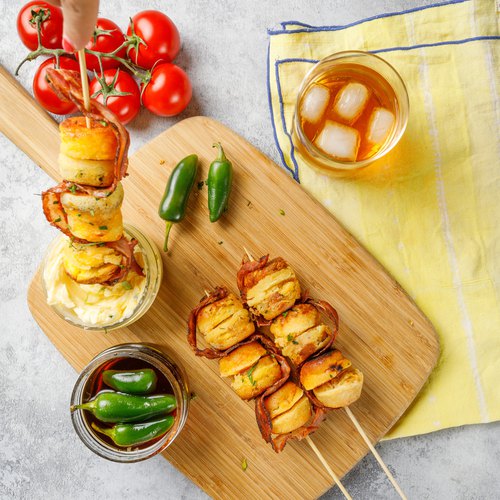 ---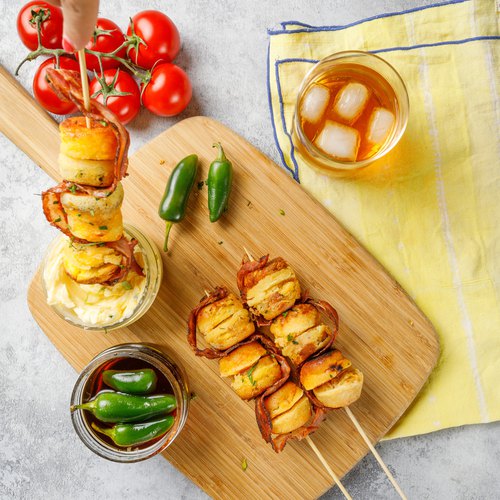 ---
Total time: 45 minutes
Cook time: 45 minutes
Ingredients for 5 people
1/4 tsp of salt
1 potato
1 cup of flour
1/4 cup of sugar
1 tsp of baking powder
1 tsp of vanilla
7 egg
1 cup of milk
1/2 cup of butter
2 tbsp of chives
3 slices of cheddar
salt & pepper
12 slices of bacon
1 cl of maple syrup
2 tbsp of bourbon
---
Tools
Skewers
Mini muffin tray
---
Step 1/5
Make pancake batter by mixing in a bowl the flour, sugar, baking powder, salt, vanilla and 1 egg. Set up your mini-muffin tray on top of your plancha on medium-high heat. Have your mise en place ready with your cooked potato, diced cheddar, chopped chives and eggs whisked.
Step 2/5
Add the butter to each muffin tin by gliding it over the top of the warm muffin tins. Pour in the omelet batter ¼ of the way up, add in a small pinch of chives, cheddar, and potatoes. Cook until the bottom is golden brown and use your chopsticks or fork to twirl the bottom layer. Lay omelette on its side in the muffin tin and pour in the pancake batter. Continue to cook until golden brown on the bottom, about 3 minutes, and pop out each one. Set to the side.
Step 3/5
Pre-heat oven to 350°F. Turn muffin tin upside down and wrap bacon around tins to from S shapes. Place another tray at the bottom of the stove to catch the grease. Bake 10 minutes or until golden brown. Take bourbon in saute pan on heat to high. Once there are bubbles, torch the bourbon and let the alcohol cook off. Add in the butter and stir. Set to the side.
Step 4/5
Take a piece of styrofoam and place towels around the sides. Place your maple syrup in one serving jar along with the room temperature bourbon butter in the other. Take the bacon from the oven and let cool.
Step 5/5
Interchange the mini omelet pancakes/omelets with the bacon on the skewers. Place the skewers into the styrofoam. Serve and enjoy!