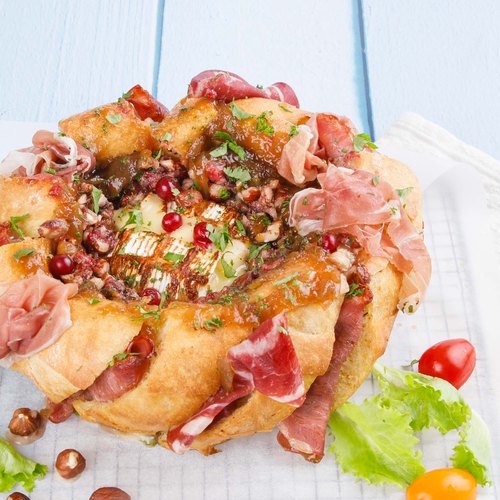 Cheese & Honey Wreath
Cheese & Honey Wreath! Call your friends and celebrate like kings 👑🍯🧀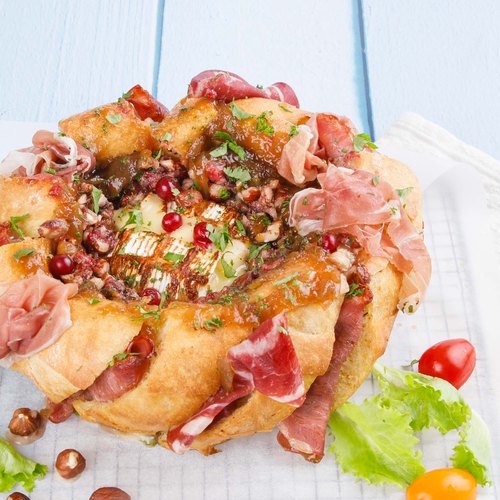 ---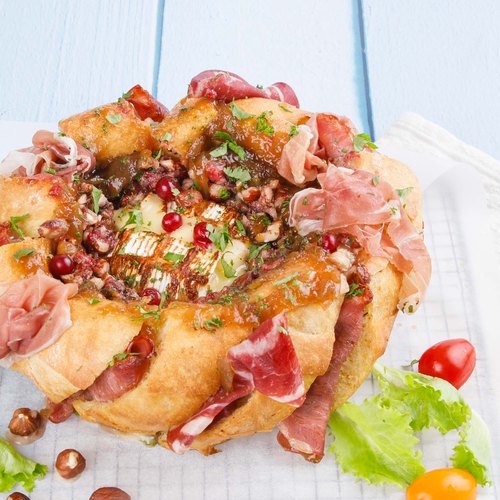 ---
Total time: 50 minutes
Prep time: 35 minutes, Cook time: 15 minutes
Ingredients for 5 people
1 wheel camembert cheese
1 1/2 tbsp of honey
1 cup of walnuts
Currants
Herbs
3 tbsp of butter
2 tsp of parsley
1 baguette
4 slices of bacon
4 slices of bresaola
1/2 cup of onion confit
4 slices of ham
---
Tools
Toothpicks
---
Step 1/3
Place the camembert between 2 wooden spoons and draw a grid on the top of the camembert. Brush the top of the camembert with honey and cook it upside down in a hot pan then turn it over to cook the other side. Add the walnuts and currants halfway through cooking and pour in the honey. Add the herbs and set aside.
Step 2/3
Melt the butter, add the parsley and mix to obtain a parsley butter. Cut a baguette into slices without going to the end, set the ends aside, coat the interstices of the baguette with the parsley butter. Form a circle with the baguette and tie the ends using toothpicks. Place the bacon in the interstices and bake for 15 minutes at 350°F.
Step 3/3
Place the bread ring on a plate. Place ¾ of the cooked walnut and currant mixture in the center of the bread ring, place the camembert on top of the walnuts and place the rest of the walnut mixture on the camembert. Arrange the ham and bresaola in the interstices, place the onion confit around the edge of the camembert. Sprinkle with parsley and enjoy!