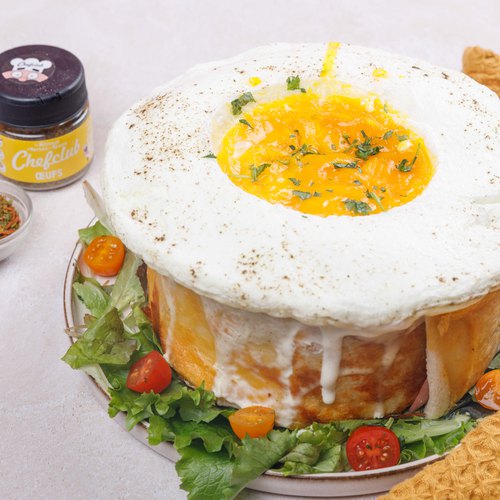 Eggs In A Hole Revisited
Eggs In A Hole Revisited! Try this eggstra delicious recipe 😃🥚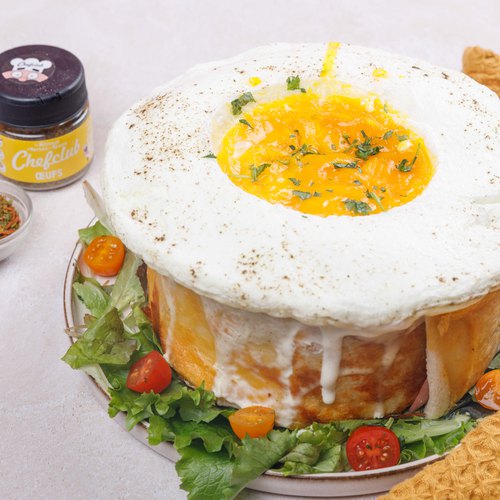 ---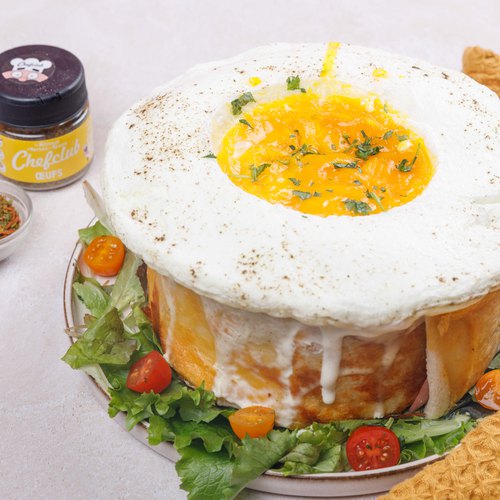 ---
Total time: 45 minutes
Prep time: 45 minutes
Ingredients for 5 people
6 eggs
3 cups of cheddar
3 cups of mozzarella
30 slices of white bread
12 slices of ham
1 cup of bechamel sauce
2 tbsp of chefclub egg spice mix
Parsley
Salt & pepper
---
Tools
Electric mixer
---
Step 1/3
Separate the white from the egg yolks. Place the egg yolks in the center of a dish under a glass and the whites around. Beat the whites into peaks using an electric mixer. Add salt so that the whites become firmer. Continue to whip them into peaks. Cook the egg whites and yolks in a double boiler.
Step 2/3
Mix the shredded cheddar and mozzarella to obtain a cheese mixture. Spread a line of the cheese mixture on the plancha. Place the sandwich breads on top, then flatten everything with a spatula. Wrap the sandwich breads and cheese around a glass. Spread a handful of the cheese mixture with the sandwich breads and place the ham on top. Continue to wrap around the glass. Repeat the process until there are 4 slices of sandwich bread and 2 slices of ham left.
Step 3/3
Place the roll on a plate garnished with salad. Cut 4 slices of sandwich bread in a circle then place 2 slices in the center of the roll with a slice of ham in between. Pour the béchamel in the center of the roll. Cover it with 2 slices of circular sandwich bread. Cover the entire roll with additional béchamel sauce. Place the eggs cooked in the double boiler on top of the roll. Sprinkle with Chefclub egg spices and parsley. Enjoy!