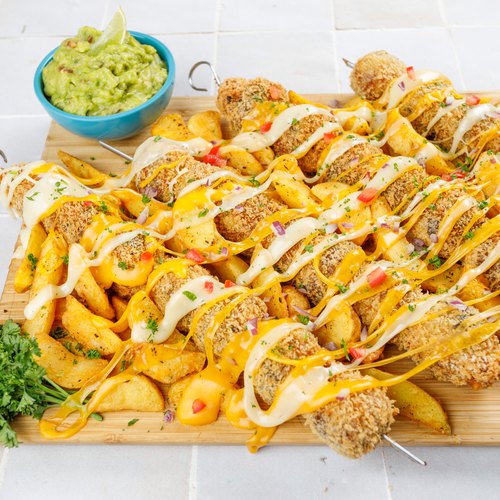 Texas Burger Skewers
It doesn't get any better :)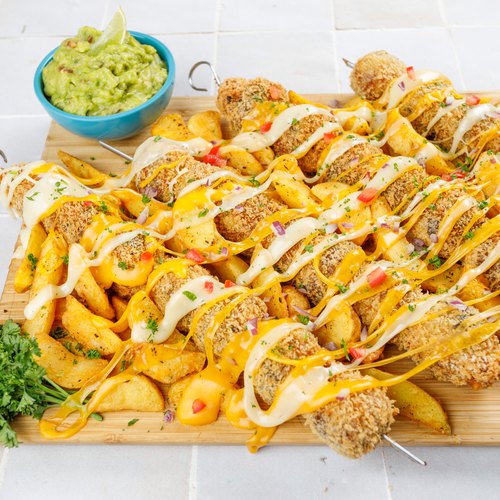 ---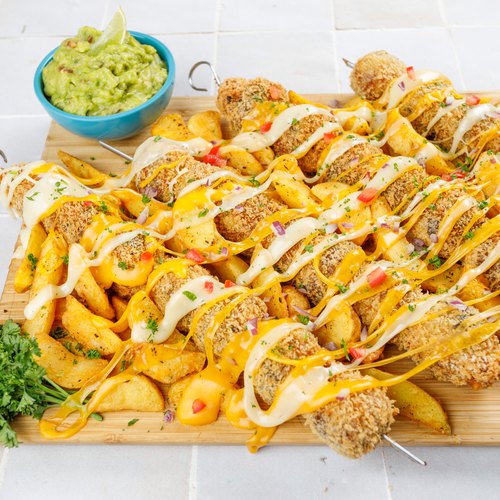 ---
Total time: 40 minutes
Cook time: 40 minutes
Ingredients for 4 people
4 3/5 lb of ground beef
1 tbsp of garlic powder
salt & pepper
4 tbsp of bbq sauce
2 jalapeños
8 slices of bacon
3 cups of cheddar cheese
flour
8 eggs
breadcrumbs
1/2 cup of melted mozzarella
1/2 cup of melted cheddar
1 tbsp of chopped onions
1 tbsp of chopped tomatoes
parsley
1 cup of guacamole
1 cup of ranch dressing
---
Tools
Skewers
---
Step 1/3
Take ground beef and season with salt, pepper and garlic powder. Divide into 32 small balls. Cut cheddar into cubes. Take a skewer and place 8 meatballs with the cheddar cubes between each. Repeat the process with other skewers. On heated grill, melt the butter. Cook the meat skewers until done while basting with additional butter. Cover in BBQ sauce, jalapeños and cooked bacon crumbs.
Step 2/3
In three separate containers place the flour, eggs and breadcrumbs. Take skewer and pass through the flour, followed by the eggs and finally the breadcrumbs. Fry skewers in hot oil until golden brown.
Step 3/3
Put skewers on serving plate with a side of guacamole and ranch dressing. Add some french fries. Cover in melted mozzarella and melted cheddar. Sprinkle with diced tomatoes, onions and parsley. Serve and enjoy!