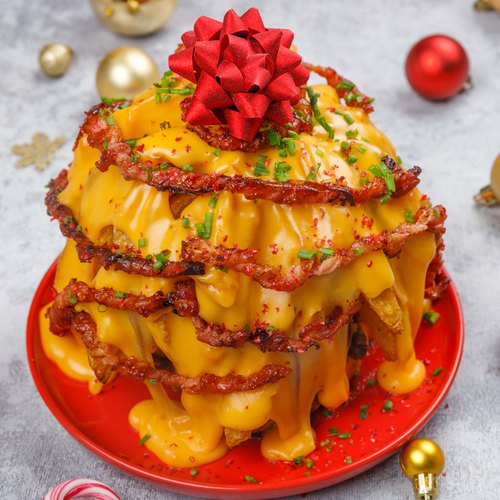 Burger & Fries Christmas Tree
Burger & Fries Christmas Tree! The perfect combo for the holiday season 🍟🍔🎄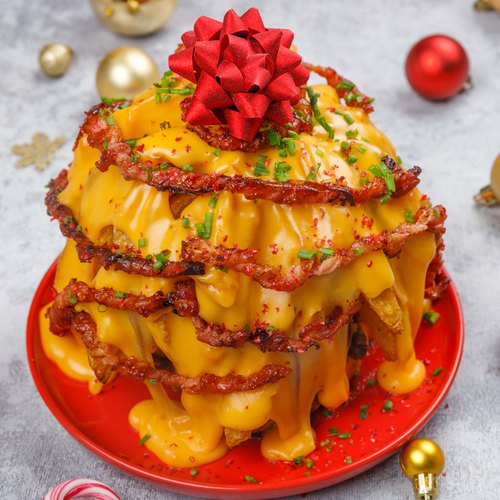 ---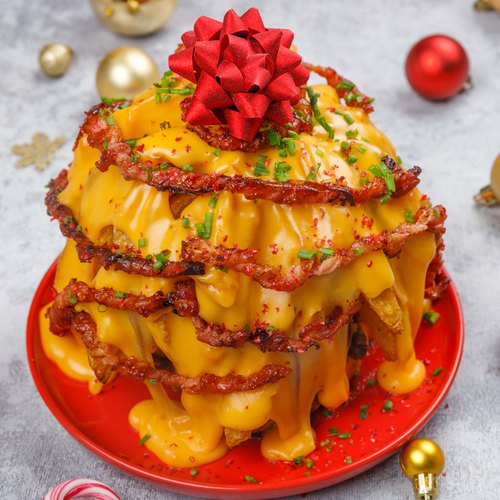 ---
Total time: 20 minutes
Cook time: 20 minutes
Ingredients for 1 person
4 burger buns
1 pickles
1 tbsp of mustard
1/2 onion
10 slices of cheddar cheese
1 cup of ground beef
Salt & pepper
15 oz of fries
1 cup of melted cheddar
7 slices of bacon
1 tsp of chives
1 pinch of peppercorns
Melted butter
1 tbsp of bbq sauce
---
Tools
Skewers
---
Step 1/4
Bake fries according to package instructions. Make 4 small ground beef meatballs seasoned with salt and pepper (1.8 oz each). Smash the burger patties on a hot surface until thin and flat. Place thinly cut onions on 2 of the patties. Add the sliced pickles and yellow mustard. Butter the buns and place on the surface to toast. Flip the two patties without the toppings and place a slice of cheese on each one. Place this patty on top of the one with the toppings. Build the burger with the inside of the buns flipped in the opposite direction. Construct a tall hamburger tower. Set aside.
Step 2/4
Cook one small meatball. Place 2 slices of cheddar on the top of the burger. Add the meatball to the top of the burger, followed by another slice of cheese.
Step 3/4
Place the fries around the patty in a circular pattern using the melted cheese to help the fries stick. Make 3 levels and coat with the melted cheese sauce.
Step 4/4
Twirl bacon strips around the wooden skewers. Brush with some BBQ sauce and bake in oven until done. Use the bacon as garland decorations. Top everything with the chives and red peppercorn skins. enjoy!