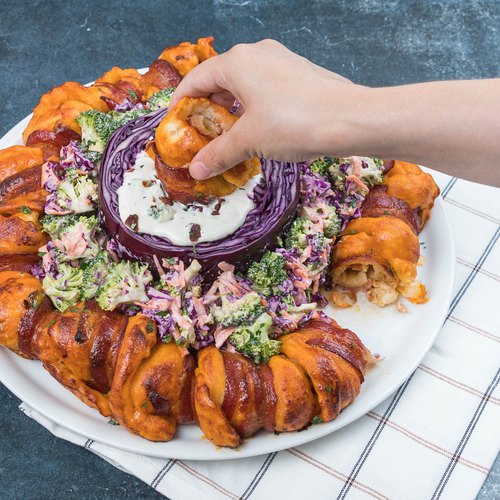 Buffalo Wing Ring
Buffalo Wing Ring! Served with a side of coleslaw 😋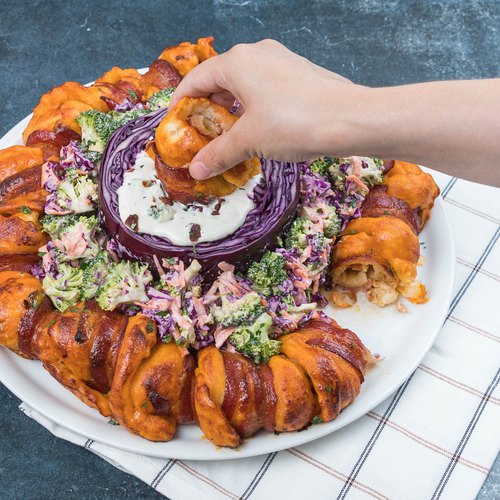 ---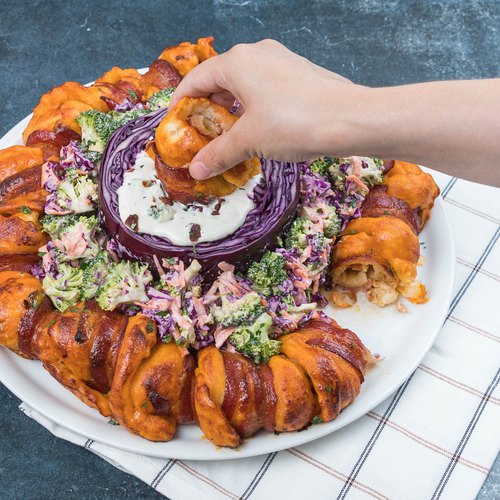 ---
Total time: 1 hour
Cook time: 1 hour
Ingredients for 4 people
16 chicken wings
8 string cheese
Buffalo spice mix
Oil
2 cups of buffalo sauce
16 slices of bacon
1 puff pastry
1 cup of blue cheese
1/2 cup of onion
1/2 cup of mayonnaise
2 tbsp of lemon juice
Salt & pepper
3/4 lb of red cabbage
1/2 lb of broccoli
1 carrot
8 oz of blue cheese dressing
Bacon bits
Chives
---
Step 1/4
Place a piece of the string cheese inside of each de-boned chicken wing. Season the chicken wings with the buffalo spice mix. Heat the vegetable oil over medium-high heat. Fry the chicken wings until golden brown and toss in the buffalo sauce.
Step 2/4
Cut the puff pastry round into 16 equal pieces with your knife (into triangles). Cover the baking sheet with parchment paper, then form the pastry pieces into a circle over slices of bacon (the narrow tips of the pastry pieces will be facing out). Add a stuffed chicken wing to the pointed end of each pastry piece, top with crumbled blue cheese, then roll up each wing into the puff pastry. Bake for 20-30 minuted until the bacon is cooked and the pastry is golden.
Step 3/4
Add the grated onion, mayonnaise, lemon juice, salt and pepper to a bowl. Mix well. Hollow out the red cabbage to create a bowl, reserving the insides. Finely chop the leftover red cabbage. Add the cabbage, broccoli and grated carrot to the dressing and mix well to combine.
Step 4/4
Add the wing ring onto a serving plate, then place the hollowed-out cabbage in the center of the ring. Add blue cheese dressing to the center of the cabbage, then garnish with bacon bits, fresh chopped herbs and additional blue cheese crumbles. Spoon the broccoli salad around the red cabbage in the center of the wing ring. Serve and enjoy!