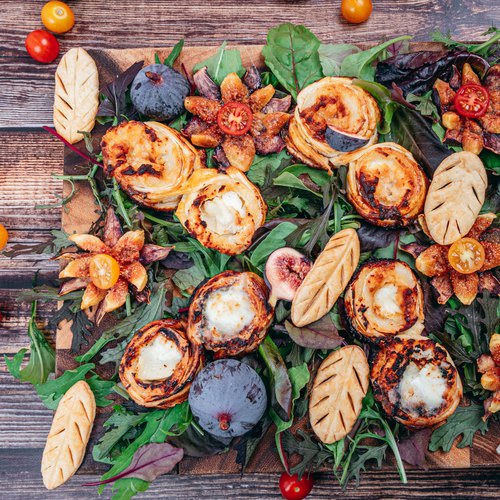 Puff Pastry Goat Cheese & Fig Flowers
Puff Pastry Goat Cheese & Fig Flowers! An irresistible appetizer is heading your way 🧀😋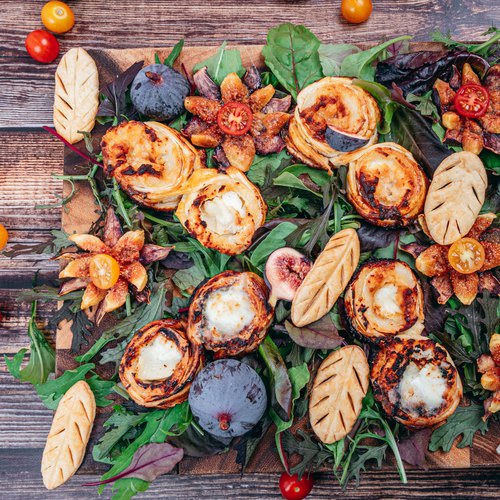 ---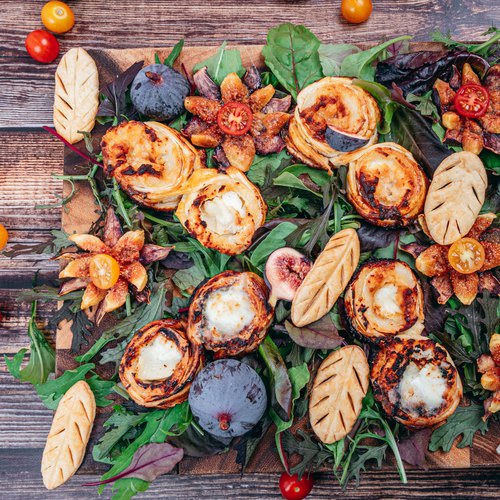 ---
Total time: 1 hour 30 minutes
Prep time: 1 hour , Cook time: 30 minutes
Ingredients for 4 people
1 puff pastry
2 logs goat cheese
1 cup of honey
6 figs
Salt & pepper
1 rosemary sprig
2 cherry tomatoes
2 yellow cherry tomatoes
---
Tools
Oval cookie cutter
---
Step 1/3
Cut the puff pastry into a spiral, make a space in the center of the goat cheese logs, pour the honey inside, wrap the goat cheese logs in the puff pastry then cut them into slices. Arrange them on a baking tray and bake for 20 minutes at 350°F.
Step 2/3
Cut the top of the figs, cut (without going all the way to the end) thin slices of skin to form a flower. Cut 3 incisions in the center of the figs. Place the figs on a baking sheet, season them with salt and pepper. Add a some of honey to each fig. Roll out the excess puff pastry, cut it using oval cookie cutters and trace the pattern to form leaves. Heat the sprig of rosemary, place it on the baking sheet with the figs and bake for 10 minutes at 300°F.
Step 3/3
Arrange the figs and the goat cheese puff pastries on a plate. Cut the red cherry tomatoes and the yellow cherry tomatoes in 2 then arrange them on the fig flowers and enjoy!