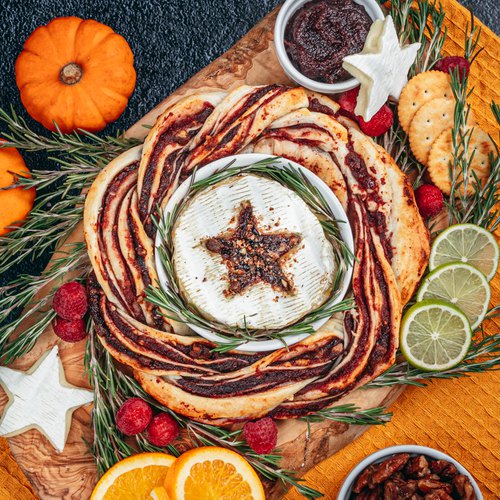 Cranberry Pecan Baked Brie
Cranberry Pecan Baked Brie! It's a thanksgiving showstopper 👪🍂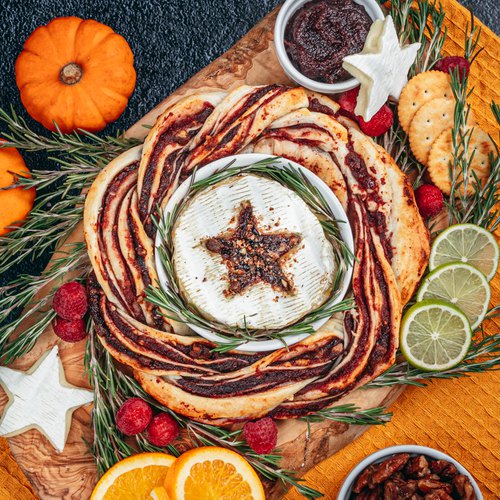 ---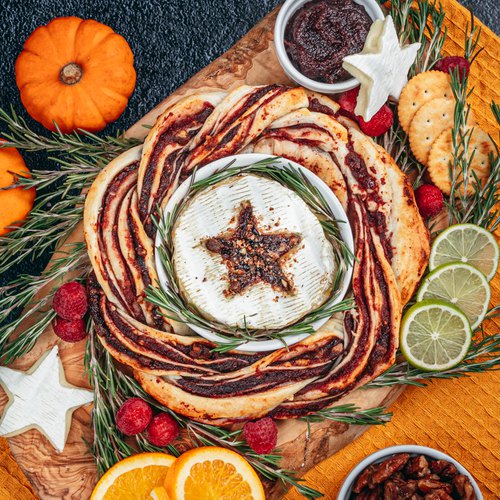 ---
Total time: 1 hour 20 minutes
Cook time: 20 minutes, Rest time: 1 hour
Ingredients for 3 people
1 lb of cranberries
1 pinch of salt
3 cups of pecans
2 pinches of flour
1 cup of maple syrup
1 puff pastry
3 sprigs of rosemary
2 cups of bourbon
1 cup of sugar
Orange zest
2 oranges
1 wheel of brie
1 tbsp of honey
---
Tools
parchment paper
---
Step 1/4
Soak the cranberries in bourbon in a large pot for at least an hour. Add sugar, orange zest, juice of two oranges and a pinch of salt, bring the mixture to a light boil and cook until almost all the liquid has evaporated. Allow to cool.
Step 2/4
Heat a pan over medium heat. Add the walnuts and toast them for about 2 minutes, add the maple syrup and a pinch of salt. Stir to fully coat the walnuts. Transfer the walnuts to a sheet of parchment paper and chop finely.
Step 3/4
Preheat oven to 350ºF. Reserve about 1/3 cup of the cranberry sauce. Roll out the dough on a lightly floured surface, spread the cranberry sauce over the top and sprinkle about 2 tbsp of chopped pecans. Roll the dough into a roll. Cut in half lengthwise, twist the two halves into a braid and make a circle (the center needs to be the same size as the piece of brie). Place the dough on a baking sheet covered with parchment paper and bake for 8 minutes.
Step 4/4
Meanwhile, cut off the top of the brie, leaving it attached on one side. Spread the cranberry sauce over the cheese and add the chopped walnuts. Drizzle with honey and close. Remove the dough from the oven and place the stuffed cheese in the center. Bake together for about 12 minute. Serve with remaining pecans and slices of oranges. Decorate with sprigs of rosemary and enjoy!