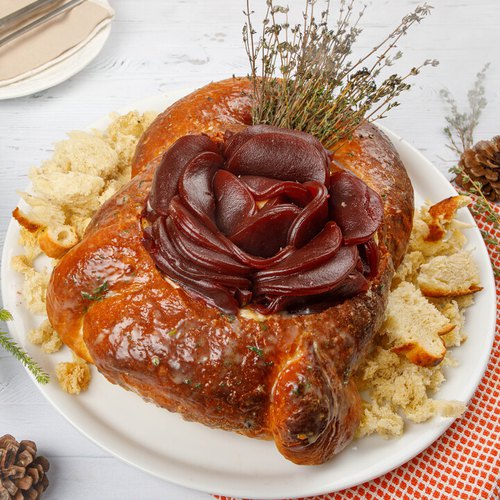 Thanksgiving festive fondue
A feast for the whole family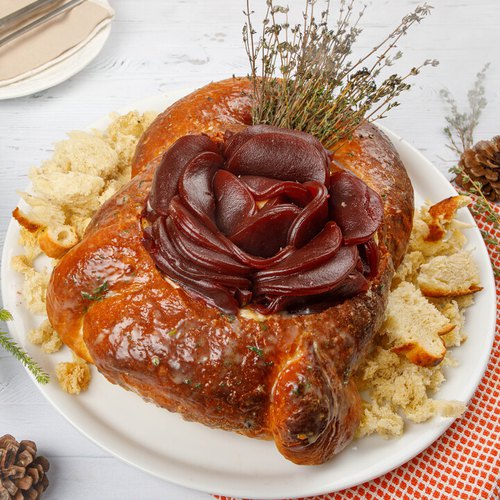 ---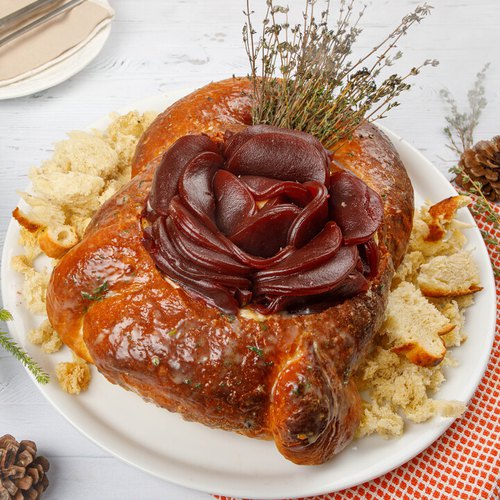 ---
Total time: 2 hours
Cook time: 2 hours
Ingredients for 8 people
6 cups of flour
1 1/2 cups of water
1 1/2 tsp of salt
20 tsp of yeast
6 tbsp of butter
2 gousses of garlic
2 tbsp of parsley
1 brie
2 cans of cranberry sauce
1 rosemary
---
Tools
Parchment sheet
---
Step 1/5
Add lukewarm water to a mixing bowl, add in the yeast and let sit for 10 minutes. After, add in the flour and salt. Mix in a stand mixer with the bread hook for 5 minutes on medium low speed and then 2 minutes on medium speed. Cover the bowl with a wet towel or plastic wrap and place in a warm place for 1 hour.
Step 2/5
Preheat oven to 400°F. Take the dough out of the bowl and using your digital scale, weigh out pieces of 764 g, 2 x 60 g, and 2 x 150 g. Form each into a ball and let rest for 10 minutes. Line a baking dish with a parchment sheet.
Step 3/5
Form the turkey by using the big piece as the main body. Roll out 4 remaining pieces into tubes to create the thighs and wings. Attach the 4 pieces under the main body. Continue to shape them.
Step 4/5
Place butter and chopped garlic in a microwave safe bowl. Place in the microwave for 1 minute or until the butter melts. Add in chopped parsley. Stir and then brush onto the turkey bread. Place in the oven for 15 minutes and then reduce the temperature to 350°F for 5 more minutes. Remove from oven and let cool.
Step 5/5
Use the wheel of cheese to trace an outline on top of the bread. Use a knife to cut out the round circle and set aside. Take out some of the bread to form a cavity. Slice off the top half the brie cheese and then place in the hole. Slice thin circles of the cranberry sauce. Scoop out the center of the brie to form a well. Layer the cranberry slices in the brie to form a rose shape. Place the entire dish back in the oven for 10 minutes to let the brie melt. Remove from oven and place on serving platter. Sprinkle thyme or rosemary leaves on top. Serve and enjoy!