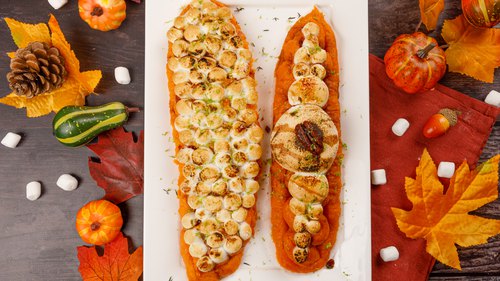 Sweet potato dream boat
Sail away with this delicious recipe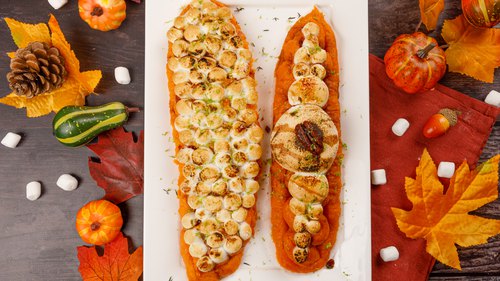 ---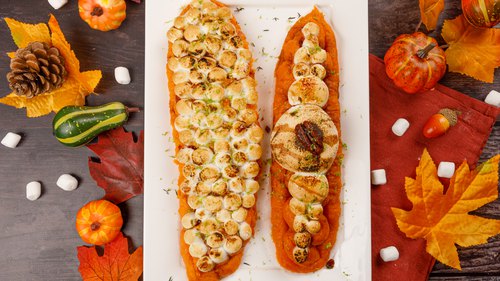 ---
Total time: 1 hour 10 minutes
Cook time: 1 hour 10 minutes
Ingredients for 3 people
2 sweet potatoes
1 1/2 cups of water
1/2 tsp of salt
marshmallows
1 cup of pecans
1/2 tsp of vanilla
1 1/2 cups of brown sugar
2 tbsp of butter
2 tbsp of whiskey
1 turkey breast
1 cup of green beans
salt & pepper
---
Step 1/4
Bake sweet potatoes in oven for 1 hour at 375°F. Drizzle with olive oil, season with salt and pepper. Once cooked, add butter and mix in to create a puree. Place in piping bag and reserve.
Step 2/4
Lightly toast pecans in a pan. In another sauce pan mix water, brown sugar, salt, vanilla, butter and whiskey. Bring to a low simmer and add in the pecans. Cook until the liquid is reduced.
Step 3/4
In a parchment lined baking pan, pipe a long line of sweet potato puree. With the help of a spoon, create an indentation to open up like a 'canoe'. Place pecans in center and cover once more with puree. Place marshmallows on top. Bake in oven for 7-8 minutes at 375°F.
Step 4/4
Grill a piece of flattened turkey breast in a pan. Season with salt and pepper. Boil green beans for 1 minute. Roll up green beans in the middle of the turkey breast. Place on a serving plate with the baked sweet potato boats. Serve and enjoy!