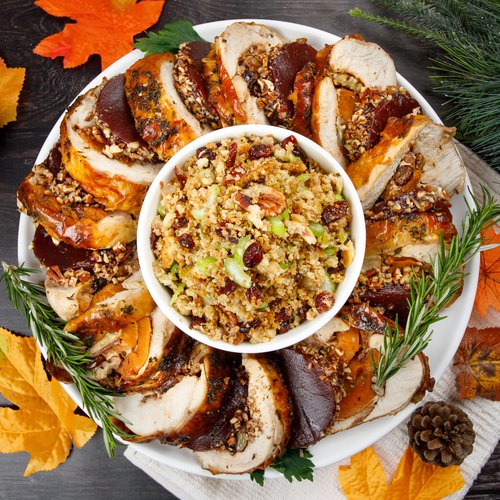 Gobble Me Up Thanksgiving Turkey
Time to get your twerky on! 🙂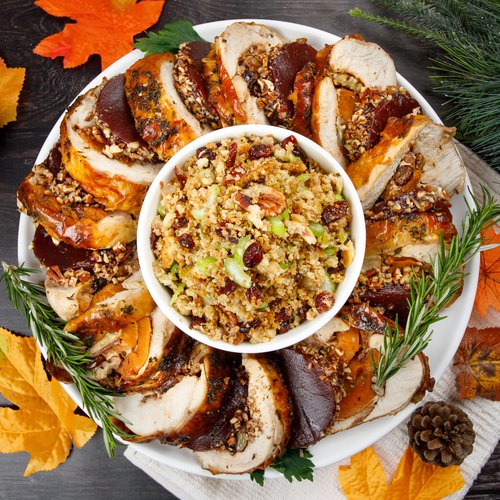 ---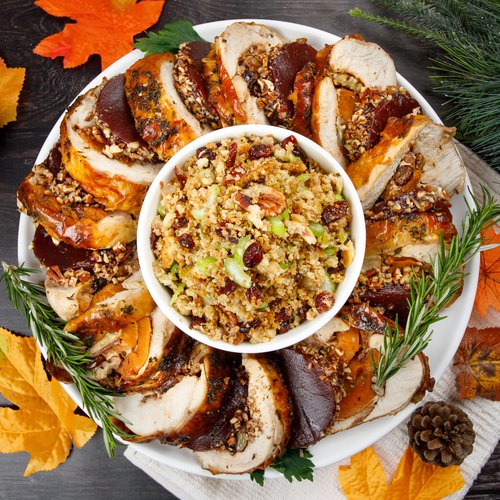 ---
Total time: 4 hours
Cook time: 4 hours
Ingredients for 8 people
22 lb of turkey
1 cup of turkey stuffing
1 cup of cranberries
3 lb of sweet potatoes
1/2 cup of brown sugar
1/2 cup of orange juice
6 tbsp of butter - yams
1 cinnamon stick
2 tbsp of bourbon
1 pincée of nutmeg
1 salt
5 tbsp of chives
1 lb of potatoes
1/4 cup of butter - mashed potatoes
5 bacon
1 cup of butter - rub
1/2 tbsp of rosemary
1/2 tbsp of thyme
1/2 tbsp of parsley
1/2 tbsp of sage
2 garlic head
1 olive oil
1 cup of green beans
1 kitchen twine
---
Step 1/5
Preheat oven to 400F degrees. Butter a baking dish. In a saucepan over medium heat combine sugar, orange juice, butter, cinnamon, bourbon, nutmeg and salt. Stir to combine and bring to a boil. Allow to reduce and thicken. Remove cinnamon stick. Take sweet potatoes and peel them. Cut into half inch rounds. Layer in baking dish. Pour thickened syrup over potatoes and cover dish with aluminum foil. Bake 30 minutes then remove foil and bake 45 minutes to 1 hour, basting with sauce every 15 minutes. Reserve.
Step 2/5
Take turkey and pat dry. Make 2 cuts all the way down the back on each side of the bone. Pour boiling water on skin to toughen up and get a crispy finish. Debone entire turkey and remove dark skin. Reserve for another recipe.
Step 3/5
Make mashed potatoes. Add butter, salt, pepper, chives and diced bacon. Mix well. Roast a couple of garlic cloves with olive oil, salt and pepper for 45 minutes at 350F.
Step 4/5
Open up turkey and set breasts on a surface. Spread soft butter with herbs all over the turkey meat. Squeeze out the garlic by hand onto turkey and rub over the entirety. Mix with the butter and add the loaded mashed potatoes. Add stuffing mix and finish off with green beans. Roll up the turkey and close the ends using the extra skin. Use kitchen twine to wrap around the roll and secure everything in place. Spread remaining butter along the entire turkey roll with herbs. Bake 2 hours at 300F.
Step 5/5
Remove the turkey roll from the oven and cut into rounds. Serve on a plate in a circular shape, interchanging one round of turkey and one round of candied yams. Repeat the process until the ring is complete. Place salad in the center with a bowl of gravy. Enjoy!