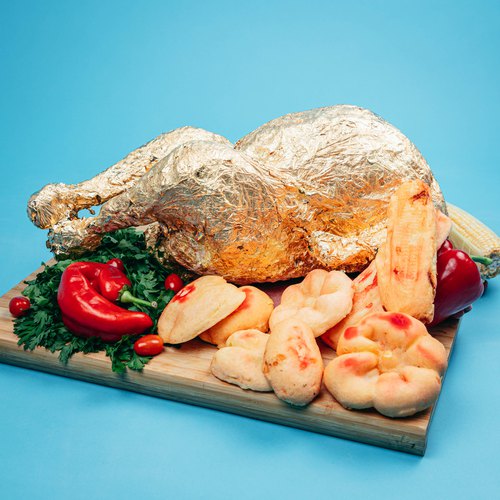 24K Turkey
24K Turkey! Go for the gold 🤯🦃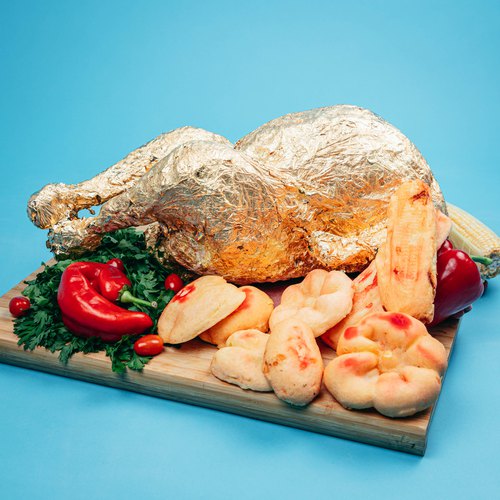 ---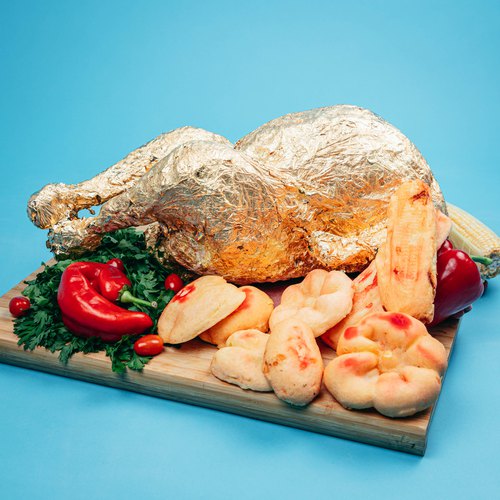 ---
Total time: 6 hours 10 minutes
Prep time: 10 minutes, Cook time: 4 hours , Rest time: 2 hours
Ingredients for 6 people
3 cups of butter
1 turkey
1 orange
1 lime
1 lemon
6 boxes of strawberry jello
5 red bell pepper
3 corn
4 potatoes
10 cups of mashed potatoes
1 loaf of bread
16 slices of bacon
3 celery
4 packages of gold leaves
Rosemary
---
Step 1/5
Spread butter between 2 sheets of parchment paper. Remove the top sheet. Add slices of oranges, limes and lemons. Sprinkle with rosemary. Wrap the butter around the turkey. Remove the parchment paper and bake until done.
Step 2/5
In a large serving dish place bell peppers, potatoes and corn. Mix the jello with hot water and pour over the vegetables. Allow the gelatin to set.
Step 3/5
Remove the vegetables from the gelatin and fill the holes with mashed potatoes. Refrigerate. Remove mashed potatoes from gelatin and fry in hot oil until golden brown.
Step 4/5
Cut the crust off the loaf of bread. Wrap in bacon slices and secure with celery sticks. Bake until done.
Step 5/5
Place the gold leaves in a large container of water. Dip the turkey in the gold and bake for 5 minutes. Stuff the turkey with the bacon-wrapped bread. Serve the turkey with the fried mashed potatoes and enjoy!