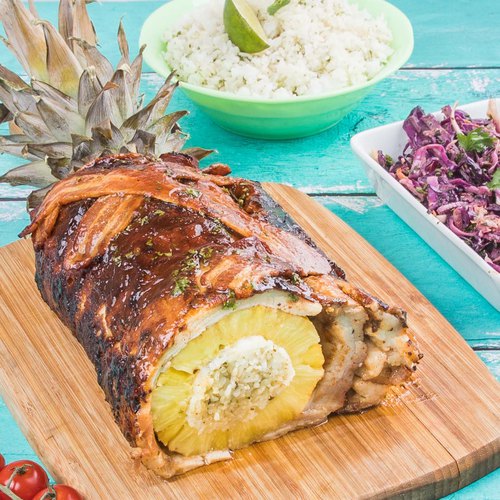 Pork Belly & Pineapple
Pork Belly & Pineapple! Featuring a mouth-watering glaze 😋🐷🍍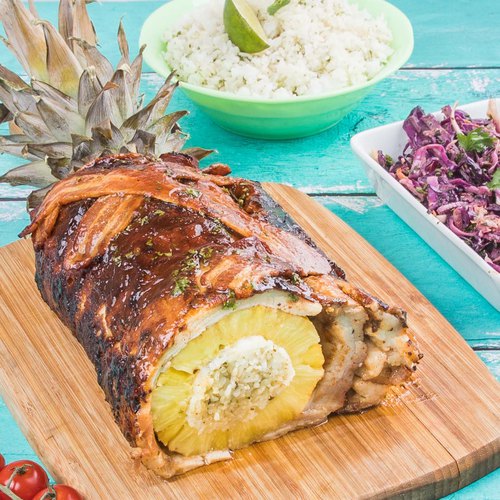 ---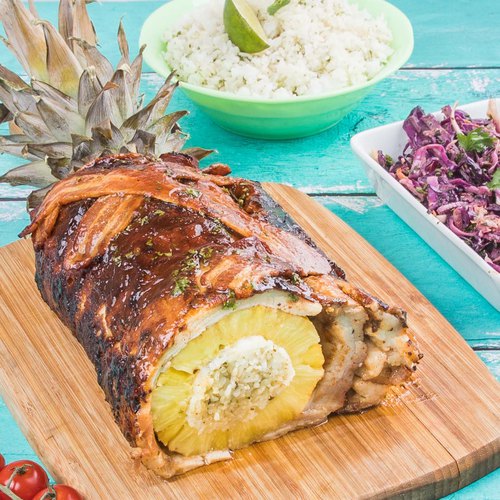 ---
Total time: 55 minutes
Prep time: 5 minutes, Cook time: 50 minutes
Ingredients for 4 people
Pork belly
2 pineapple
Bacon
Spices
Green onions
Soy sauce
Garlic
Sriracha hot sauce
Butter
Cilantro rice
Coleslaw
Salt
Lime juice
Cherries
Parsley
Brown sugar
---
Tools
Cling wrap
---
Step 1/4
Remove skin and core of 2 pineapples. Place upside down in 2 large glasses. Coat the outsides with butter and brown sugar. Stuff holes with cilantro rice and add lime juice on top. Reserve.
Step 2/4
Place bacon slices over a piece of cling wrap creating a cross hatch pattern. Take a pork belly and slice it open like a book. Flatten it. Season with salt and brown sugar. Place the pork belly over the bacon. Take the stuffed pineapples and place in the middle of the pork belly (leaves facing outward). Roll the pork belly and bacon around the pineapples. Remove the cling wrap.
Step 3/4
Make a glaze with soy sauce, garlic, sriracha and green onions. Coat the pork belly and bacon with the glaze.
Step 4/4
Bake in the oven until done. Remove from oven and sprinkle with parsley. Serve with coleslaw and cherries. Enjoy!