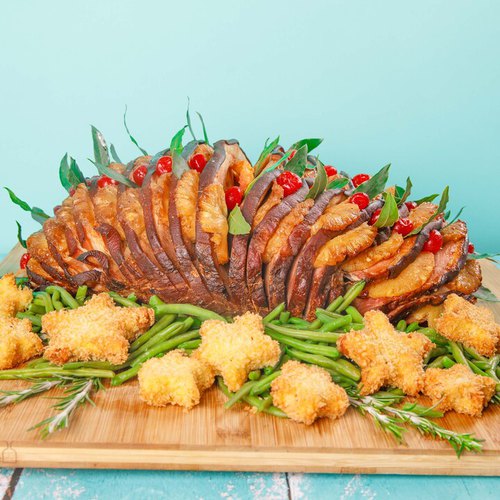 Total Ham & Pineapple Celebration
Total Ham & Pineapple Celebration! Get in the kitchen and try this hambitious dish 🤩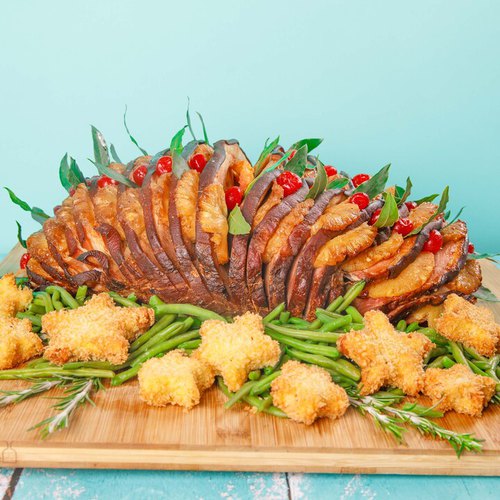 ---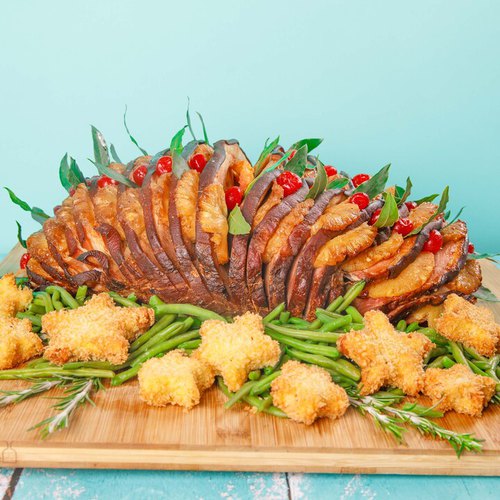 ---
Total time: 2 hours
Cook time: 2 hours
Ingredients for 8 people
15 lbs of ham
1 cup of brown sugar
0.7 cup of maple syrup
1 tbsp of chinese 5 spice mix
5 lbs of canned pineapple
6 oz of marishino cherries
4 cups of mashed potatoes
1 1/2 cups of shredded cheddar
1 cup of chives
2 cloves of garlic
6 eggs, beaten
2 cups of flour
2 cups of breadcrumbs
1 l of vegetable oil
30 leaves of bay leaves
---
Tools
Aluminum foil
Parchement paper
Thermometer
Cookie cutter
---
Step 1/5
Preheat the oven to 350°F degrees. In a small saucepan, combine the brown sugar, maple syrup, pineapple juice and spices. Heat the mixture on low heat, stirring frequently, for about 3 minutes or until the sugar has completely dissolved. Bring the mixture to a low simmer for about 5-7 minutes and allow it to thicken. Remove from the heat and set aside.
Step 2/5
Slice the ham horizontally into equal portions about 3/4 of the way through the ham. Place the ham in a roasting pan. In between each slice of ham, place 2-3 slices of pineapple and 2-3 cherries. Pour the glaze over the stuffed ham, reserving 1/2 cup for later use. Cover the ham with aluminum foil and bake for about 10 minutes per pound of ham.
Step 3/5
Combine the mashed potatoes, shredded cheddar, chopped chives, minced garlic and two lightly beaten eggs in a mixing bowl. Stir well to combine. Spread the mixture evenly onto a parchment paper-covered baking sheet and freeze for thirty minutes.
Step 4/5
Heat the frying oil to 375°F degrees. Place the flour, 4 beaten eggs and breadcrumbs in separate bowls. Once the mashed potato mixture has set, cut into star shapes using a cookie cutter. Dredge each star in flour, then egg and then breadcrumbs. Fry until golden brown. Drain on paper towels.
Step 5/5
Allow the ham to reach an internal temperature of 160°F degrees. Remove it from the oven and allow it to cool for 10 minutes. Place bay leaves around the cherries to resemble holly. Serve with the potato stars. Enjoy!