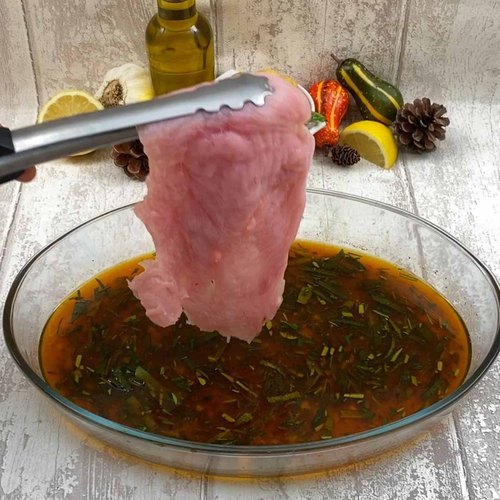 Turkey Breast Tower
Take your Thanksgiving bird to new heights! 🦃⚡️❤️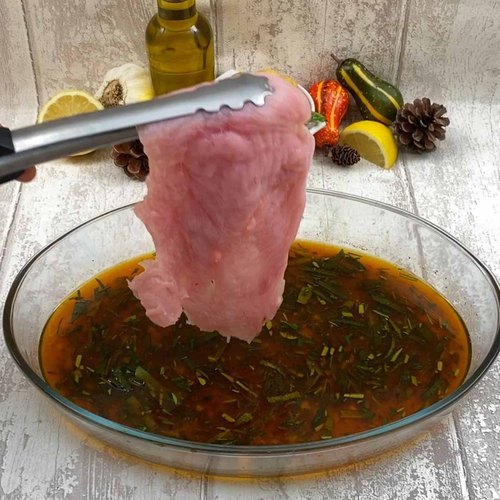 ---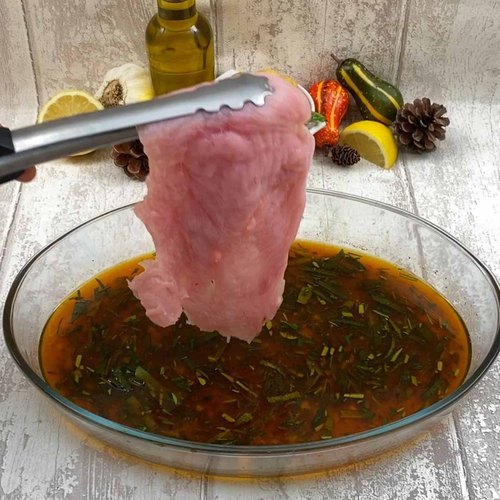 ---
Ingredients for 4 people
olive oil
2 garlic cloves, minced
sage
rosemary
1 tbsp of paprika
salt & pepper
lemon juice
turkey breasts, thinly sliced
2 onions
butter, softened
2 sweet potatoes
---
Tools
Plastic wrap
Skewers
Kitchen twine
Serrated knife
---
Step 1/4
Mix together 1/2 cup olive oil, garlic, sage, rosemary, paprika, lemon juice, salt, and pepper to make a marinade. Add the turkey breasts to the marinade, cover with plastic wrap, and let chill overnight.
Step 2/4
Peel and cut off the tops and bottoms of the onions. Place one onion on a baking sheet. Use it as a base to insert 3 skewers. Top the top and bottom of the skewers with the kitchen twine.
Step 3/4
Cut a turkey breast in half and place a turkey breast on the skewers. Then brush on softened butter. Repeat until the tower is complete, gradually adding larger slices. Top with the second onion.
Step 4/4
Peel and slice the sweet potatoes, then place them on the baking sheet along with the turkey. Drizzle the sweet potatoes with olive oil and sprinkle with salt, pepper, and rosemary. Bake for 45 minutes at 350 °F. Use a serrated knife to carve the turkey off the skewers and enjoy with the sweet potato fries.
Similar recipes from Chefclub
-
Our other recipes