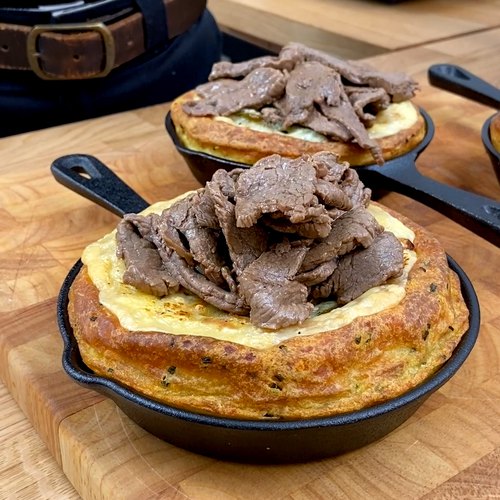 Cheesesteak Potato Pies
Everything good in one little skillet 🤤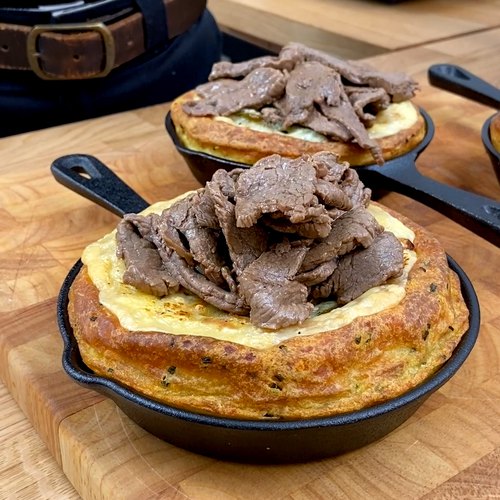 ---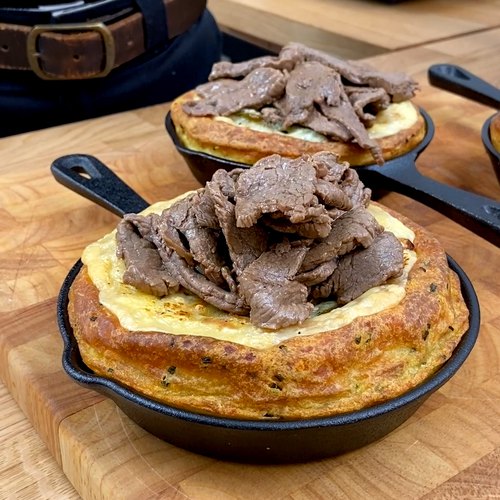 ---
Ingredients for 3 people
2 lb of russet potatoes
salt & pepper
1/4 cup of butter
1/4 cup of heavy cream
1/3 cup of cornstarch
1/4 cup of chopped chives
2 green bell peppers
2 onions
2 tbsp of olive oil, divided
2 lb of ribeye steak
3 slices of provolone cheese
parsley
---
Tools
Mini cast iron skillets
Glass bottle
---
Step 1/3
Peel the potatoes and boil them in salted water for 25 minutes. Drain the water and then return them to the warm pot for 5 minutes to release moisture. Place the potatoes in a bowl and mash with the butter, heavy cream, cornstarch, and salt. Once nicely mashed, add in the chives and divide the potatoes into 3 small skillets. Use a glass bottle to make an indent in the center of each skillet and then shape the pie with your hands as seen in the video. Next, bake the skillets for 20 minutes at 350 °F.
Step 2/3
Meanwhile, cook the sliced green bell peppers and onions in a frying pan with 1 tbsp olive oil. Cook until tender and set aside. Then fry the ribeye steak with 1 tbsp olive oil and sprinkle with salt & pepper to taste. Set aside.
Step 3/3
Remove the potato skillets from the oven and fill with sauteed peppers and onions. Top each skillet with a piece of provolone cheese and bake for 10 minutes at 350 °F. Remove from the oven and top with cooked ribeye steak. Sprinkle with parsley and serve. Enjoy!
Similar recipes from Chefclub
-
Our other recipes