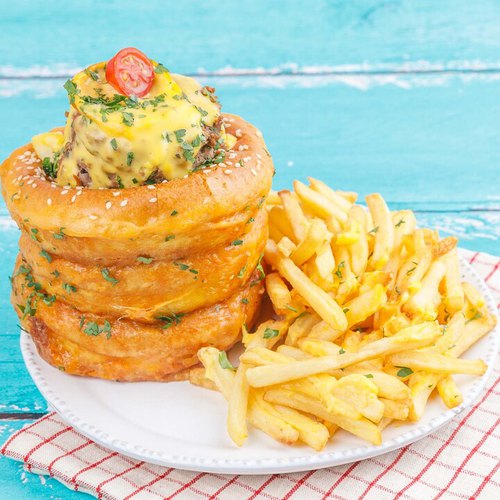 Stuffed Cheeseburger Tower
Stuffed Cheeseburger Tower! Meat your heart out 🍔😍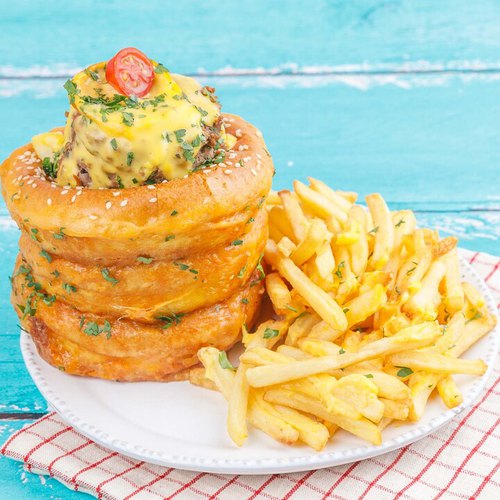 ---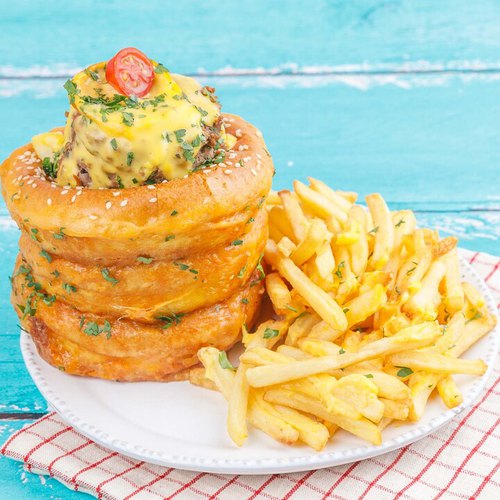 ---
Total time: 1 hour
Cook time: 1 hour
Ingredients for 4 people
4 butter
2 onions
4 slices of american cheese
3/4 lb of ground beef
1 tsp of paprika
1/2 tsp of oregano
Salt & pepper
5 oz of shredded cheddar
1 tbsp of parsley
8 cherry tomatoes
French fries
---
Tools
Can
Parchement paper
---
Step 1/4
Preheat the oven to 350°F. Cover the baking sheet in parchment paper. Remove the ends of the onions to form a flat, closed bottom on each side. Cut the onions in half horizontally and remove the peel. Remove the inner part of each onion half leaving a closed bottom on each half. Set aside the removed inner parts. Slice each piece of American cheese into 4 strips. Roll 8 strips up into a spiral. Repeat with the remaining cheese. Place one cheese spiral into the center of each onion. Add the onions to the parchment-covered baking sheet. Finely mince the inner parts of the onions that were removed and add to the mixing bowl.
Step 2/4
Add the ground beef, paprika, oregano, 1 tsp of the chopped parsley, and salt and pepper to taste to the mixing bowl with the minced onions. Combine well with your hands or a stirring spoon. Pack the ground beef mixture tightly into the empty metal can. Place it on the baking sheet with the cheese-stuffed onions. Bake for 25-30 minutes.
Step 3/4
When the onions and beef have about 15 minutes left to bake, heat the griddle to medium-high heat. With the other empty metal can, punch out the center of each half of each bun. Place each bun ring onto the can. Reserve the cut-out pieces of bun. Once the griddle is hot, add the cheddar cheese to the griddle and shape it into a rectangular shape that is about the same width as the stack of bun rings. Add 1 tsp of the chopped parsley to your cutting board. Once the cheese starts to form air bubbles on top, add the ring of buns on the can to one side of the melting cheese, then roll the cheese up and around the stack of bun rings tightly, using your spatula as needed to cling to the bread. Toast the cut-out bun rounds on the griddle. Once fully covered with the cheese, remove the bun stack from the griddle and roll it in the chopped parsley on the cutting board to coat. Add any remaining cheese on the griddle to the small toasted rounds.Set the cheese-covered buns on the serving plate.
Step 4/4
The cheese should be melted in the onion halves and the ground beef should be at a temperature of at least 125°F. Once both are ready, remove the baking sheet from the oven and set aside to cool. Turn the can over on the baking sheet and open the other end of the can with the can opener. Push the ground beef out of the can with a spoon into the center of the cheese-covered buns. Squeeze the cheese out of one of the onions on top of the burger tower. Squeeze the other onion onto your fries. Top with the remaining chopped parsley and halved cherry tomatoes. Enjoy!