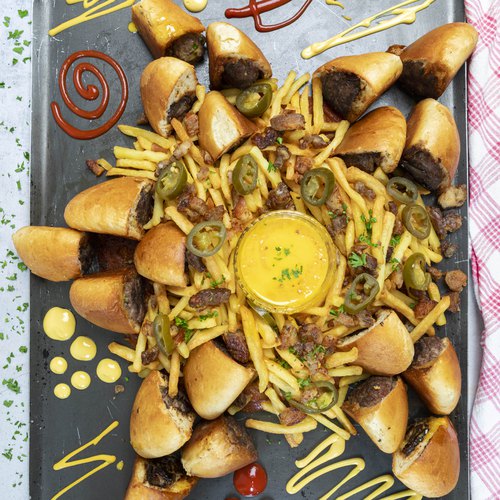 4th of July Burger Platter
It doesn't get more American than this 😎🇺🇸🍔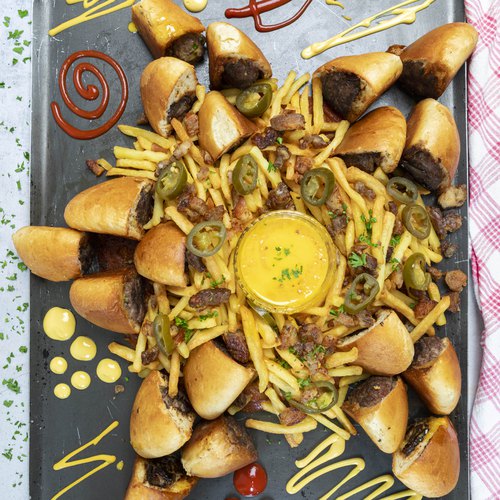 ---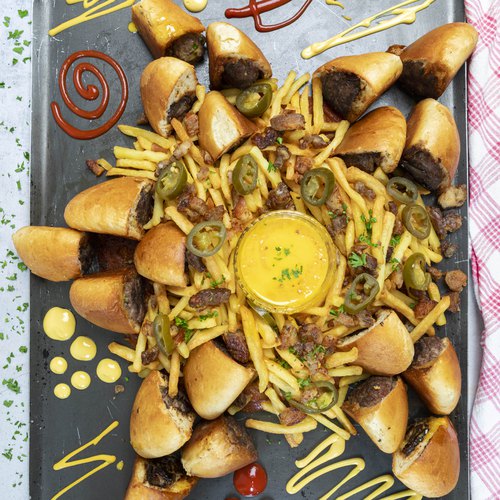 ---
Ingredients for 5 people
3 red onions
olive oil
12 oz of bacon bits
1 packet frozen french fries
1/4 lb of ground pork
1 lb of ground beef
1 tbsp of parsley
3 cloves garlic
1 tbsp of worcestershire sauce
salt & pepper
5 burger buns
chicken stock
32 oz of shredded cheddar
1/2 bottle of beer
pickled jalapeños
ketchup
mustard
---
Tools
Electric griddle
---
Step 1/4
In a frying pan, cook the diced red onion with olive oiluntil caramelized. Set aside. Then grill your bacon bits until crispy. Save the bacon grease and set aside. Next heat up frozen french fries according to package instructions. Set aside.
Step 2/4
In a large bowl mix the ground pork, ground beef, parsley, garlic, Worcestershire sauce, salt, and pepper. Slice the burger buns in half and remove the inside filling. Stuff with caramelized onions and a handful of the meat mixture so that the bun is completely filled. Cut into quarters and grill on an electric griddle over medium heat for 2-3 minutes per side. Add chicken stock to pan to help caramelize. Set to the side.
Step 3/4
In a round frying pan, melt 16 oz cheddar cheese until crispy and browned on the bottom and flip onto a baking sheet. Arrange the burger quarters into a star shape with 4 burger quarters for each point of the star. Place the cooked French fries in the center of the star and bake for 5 minutes at 375 °F.
Step 4/4
Meanwhile heat up the remaining cheddar with beer in a sauce pan to create a cheese sauce. Remove the burger star from the oven, place the cheese sauce in a small bowl in the center of the star and garnish with bacon bits and pickled jalapeños. Decorate with stars, stripes, and swirls for the 4th of July. Enjoy!