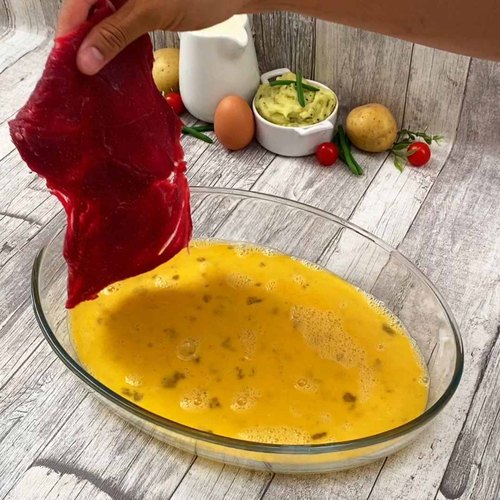 All-in-One Chicken Fried Steak
Mashed potatoes, green beans, country gravy... oh my! 🥰🤤👀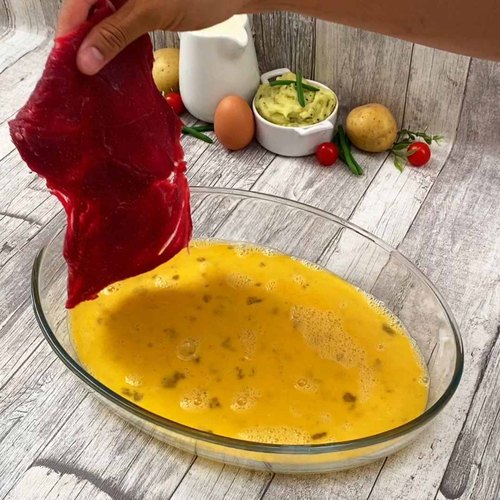 ---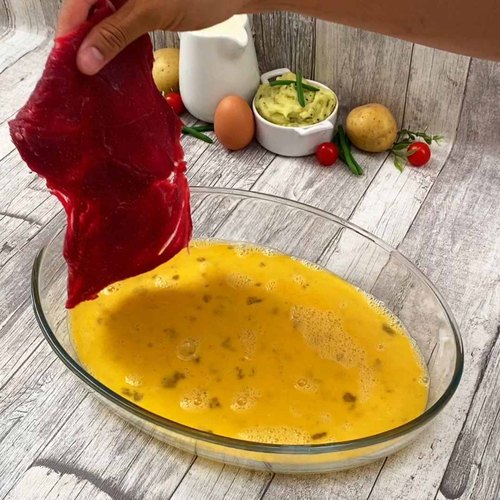 ---
Ingredients for 4 people
1 lb of potatoes, peeled and cooked
1 cup of butter
3 eggs, plus more for breading
3 1/2 cups of flour
1/2 cup of cornstarch
salt & pepper
vegetable oil
1 lb of round steak
1 tbsp of paprika
1 tbsp of garlic powder
canned green beans
country gravy
parsley
---
Tools
Piping bag
Small bowls
Plastic wrap
Meat mallet
---
Step 1/3
Add the butter to the potatoes and mash, then mix in 3 eggs, 1 cup of flour, cornstarch, salt, and pepper. Fill a piping bag with potato mixture. Line the small bowls with plastic wrap. Using the piping bag, line the bowls with the potato mixture. Freeze until solid. When solid, cover in 1/2 cup of flour, then fry in a pot of hot oil until golden brown. Drain excess oil and set aside.
Step 2/3
Place the steak between two pieces of plastic wrap and pound it with a meat mallet until 1/4 inch thick. Dip the steak in beaten egg covering completely. In a separate bowl, mix together 2 cups of flour, paprika, garlic powder, and 1 tsp of salt. Coat steak completely with flour. Repeat with egg and flour 3 times. Heat oil in a skillet. Fry the steak until golden brown, turning once.
Step 3/3
When steak is cooked, cut into strips small enough to fit inside the potato bowls. Add green beans to the bowls and cover with gravy. Garnish with parsley and enjoy!