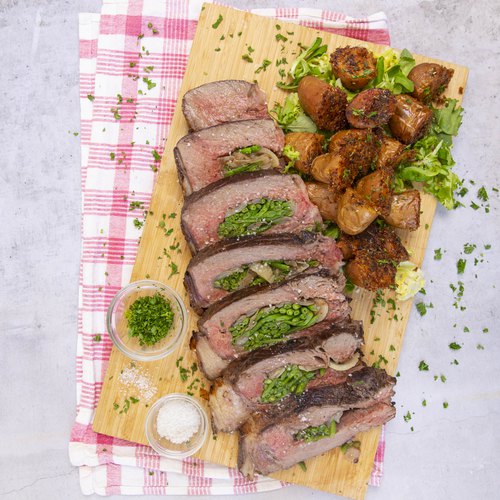 Stuffed Ribeye
It doesn't get butter than this 😉🥩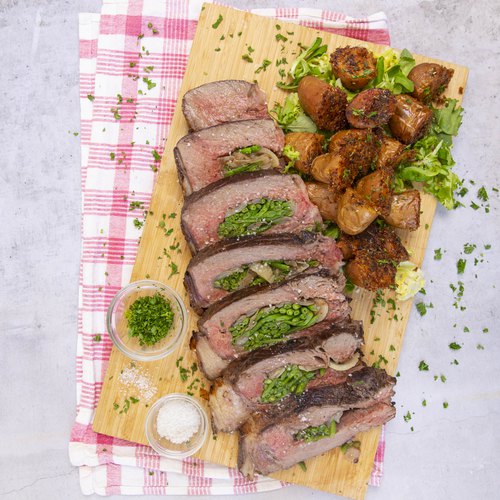 ---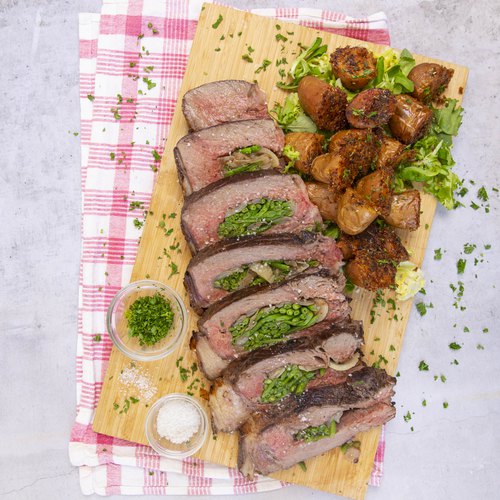 ---
Total time: 2 hours 5 minutes
Prep time: 45 minutes, Cook time: 1 hour 10 minutes, Rest time: 10 minutes
Ingredients for 4 people
11 lb of butter
3 onions
olive oil
7 lb of ribeye
1/2 lb of green beans
1 box of fresh thyme
1 box of fresh rosemary
1 box of bay leaves
3 whole garlic heads
2/3 cup of grated parmesan
2 tbsp of chefclub barbecue seasoning
4 1/2 lb of red potatoes
salad
---
Tools
Strainer
Clean dish towel
Wooden skewer
Kitchen twine
Dutch oven
Electric griddle or grill
Square baking dish
---
Step 1/4
Melt the butter in a large stewpot over medium low heat. Place a strainer in a large bowl and cover with a clean kitchen towel. Once the butter is completely melted, clarify the butter by pouring it through the kitchen towel and strainer. Set aside.
Step 2/4
In a frying pan carmelize the chopped onions over medium heat with a little bit of olive oil. Set aside. Make a deep incision in the edge of the steak and stuff the steak with carmelized onions and green beans. Then close up the opening by sowing it with a skewer and kitchen twine. Place in a large dutch oven and cover with the melted butter (reserve 1/2 cup melted butter for later). Place the thyme, rosemary, bay leaves, and garlic cloves cut in half and bake for 1 hour at 100 °F.
Step 3/4
Pour 1/4 cup melted butter into a square baking dish. Mix the grated parmesan and the barbecue seasoning together and sprinkle on the bottom of the dish. Cut the red potatoes in half and place facedown in the dish. Sprinkle with melted butter and bake for 45 minutes at 350 °F.
Step 4/4
Remove the steak from the oven and grill on an electric griddle or grill on all sides to the doneness of your liking. Drizzle with extra melted butter as desired. Remove from heat and let sit 10 minutes before cutting. Serve with the potatoes and salad. Enjoy!