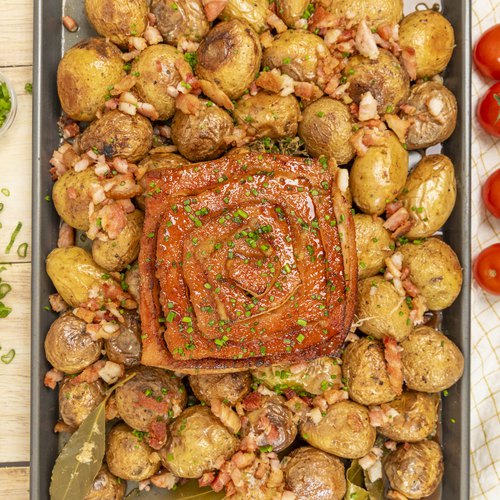 Pork belly spiral
Juicy, mouthwatering, and delicious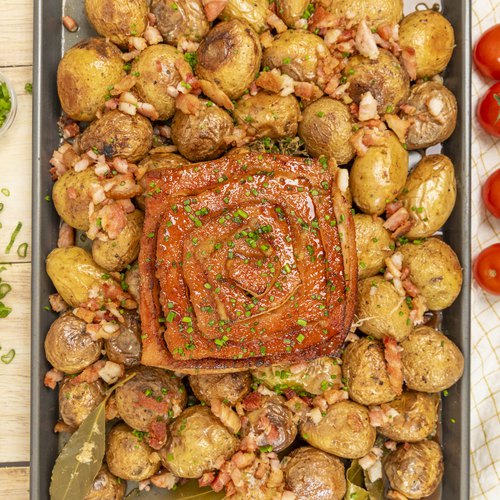 ---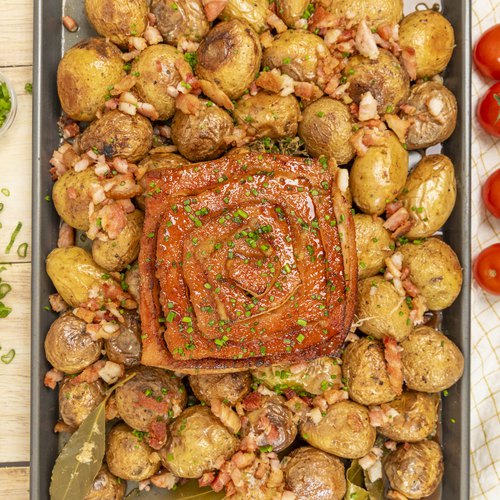 ---
Total time: 3 hours 40 minutes
Prep time: 30 minutes, Cook time: 2 hours , Rest time: 1 hour 10 minutes
Ingredients for 6 people
48 potatoes
1 stick butter
3 lb of pork belly
1/3 cup of garlic puree
salt & pepper
sunflower oil
2 tbsp of chefclub bbq spice mix
thyme
bay leaves
1 1/4 cups of apple cider vinegar
1 1/4 cups of beer
1 1/4 cups of chicken broth
1 1/3 tbsp of honey
chives
1 box of mixed herbs
1/3 cup of minced ginger
---
Tools
Muffin tins
Wooden cutting boards
Dutch oven
---
Step 1/5
Cook the pork belly in a dutch oven in water, minced ginger, and mixed herbs for 1 hour and 30 minutes on medium-low heat. Place between two clean wood cutting boards, place a heavy pot on top, and chill for 40 minutes.
Step 2/5
Meanwhile, preheat oven to 350 °F and place 4 trays of muffin tins in the oven while preheating. Remove the trays and grease by running a stick of butter across the surface. Place 1 potato in each cup, sprinkle with salt & pepper, and bake for 20 minutes at 350 °F, flipping the potatoes over with a fork half way through.
Step 3/5
Next, brown both sides of the large pork belly square in hot oil. Place between two wooden cutting boards, place a heavy pot on top, and chill in the fridge for 30 minutes. Remove from the fridge and cut off the edges to form a perfect square. Save the edges and fry them in hot oil to make bacon bits.
Step 4/5
Cut the pork belly square into one long thin strip, using the technique seen in the video. Fill with a garlic purée, sprinkle with barbecue spices, and roll into a spiral. Add dried thyme, bay leaves, apple cider vinegar, beer, and chicken broth to the dutch oven. Place the pork inside and top with honey. Bake in the oven for 30 minutes at 410 °F.
Step 5/5
Remove the pork from the dutch oven and cook the remaining sauce on high heat, stirring frequently until the liquid is reduced in quantity by about half. Stir in softened butter or cream if desired. Place the potatoes on a large baking sheet and top with the leftover pork crumbles, the pork spiral, the caramel reduction, and chives. Enjoy!