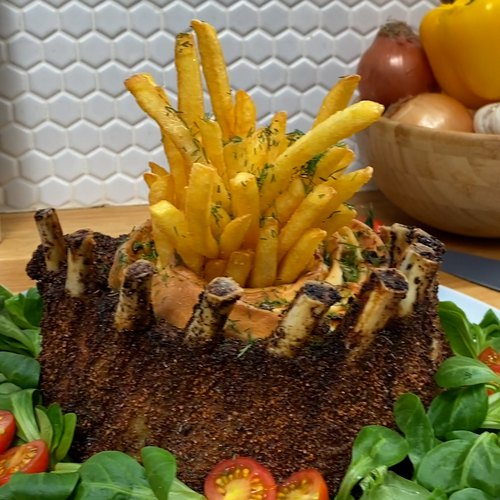 Ribs & Chips
Mouth watering ribs with cheesy bread and fries 😍🍟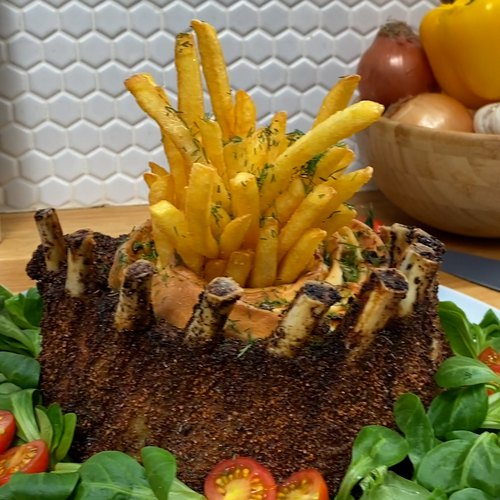 ---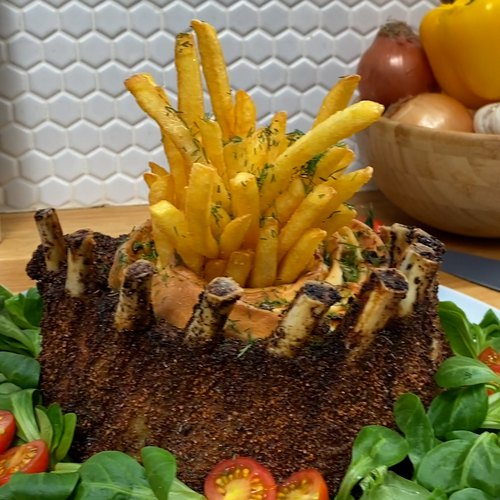 ---
Ingredients for 4 people
3 1/2 lb of pork ribs
barbecue rub
1 sheet of pizza dough
1 cup of diced pickles
1 cup of diced onion
1 cup of grated cheddar
2 tbsp of dill, divided
cooking spray
8 oz of frozen french fries
salad
cherry tomatoes
barbecue sauce
---
Tools
Toothpicks
Springform pan
Tall glass
---
Step 1/4
Cover the pork ribs with barbecue rub and place in a springform pan. Then attach the two ends with toothpicks and bake for 3 hours at 275 °F.
Step 2/4
While the ribs are cooking, unroll the pizza dough and spread the pickles, onions, grated cheddar, and 1 tbsp dill evenly over the dough, leaving about a 1 inch border around the edges. Then cut the dough into 3 even sections. Spray a tall glass with cooking spray and roll the three sections of pizza dough around the glass as seen in the video. Set aside.
Step 3/4
Heat up frozen french fries according to package instructions. Set aside.
Step 4/4
Remove the ribs from the oven and place the pizza dough glass in the center of the pan. Then bake for 20 minutes at 325 °F. Once cooked, place on serving plate, remove the glass, and add the cooked french fries to the center. Garnish with salad, cherry tomatoes, and remaining dill. Serve with barbecue sauce and enjoy!