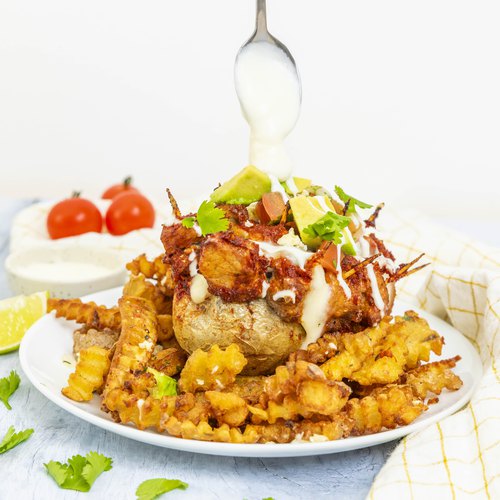 Fried Pork & Potatoes
A comfort food dinner you don't want to miss 🤤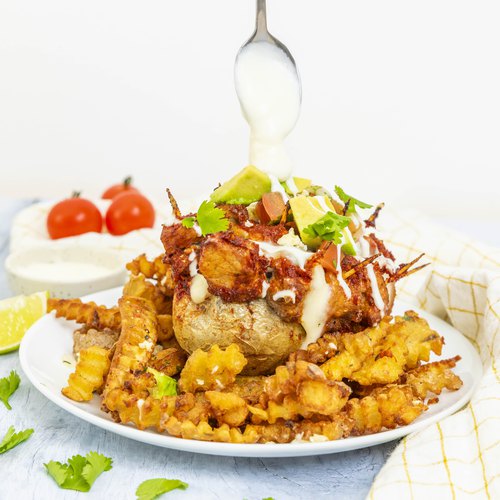 ---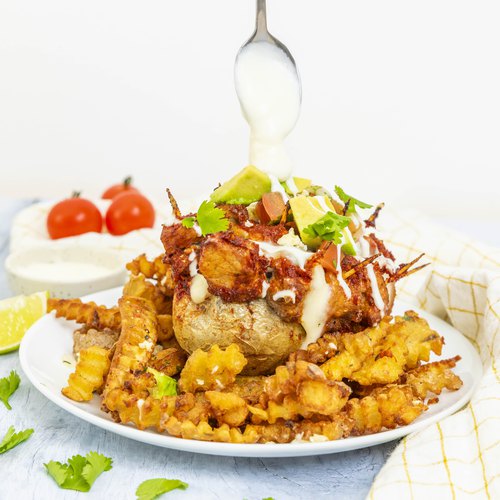 ---
Total time: 1 hour
Prep time: 15 minutes, Cook time: 45 minutes
Ingredients for 5 people
8 large potatoes
olive oil
salt & pepper
6 plantains
sunflower oil
4 cloves garlic
2 tbsp of chopped parsley
3 tbsp of chefclub barbecue seasoning
1 lb of pork tenderloin
1/2 cup of pastor sauce
1 tsp of chili powder
5 slices of mozzarella
1/2 cup of pico de gallo
1/4 cup of crumbled cotija
3 avocados
2 limes
---
Tools
Foil
Crinkle cutter
Toothpicks
---
Step 1/4
Wrap 5 potatoes in foil with olive oil, salt, and pepper and bake for 40 minutes at 425 °F.
Step 2/4
Cut the 3 remaining potatoes and plantains into thin fry slices using a crinkle cutter and fry in the hot sunflower oil until golden brown. Toss with 3 cloves minced garlic, parsley, and 2 tbsp barbecue seasoning and place on a baking sheet.
Step 3/4
Slice the pork into cubes, placing a toothpick in each cube and pierce the surface of each baked potato with the pork cubes. In a bowl mix the Pastor sauce, 1 clove minced garlic, chili powder, and 1 tbsp barbecue seasoning and dip top half of the pork cube baked potatoes into the sauce. Fry them in the hot oil for 4 minutes each. Then place the potatoes on top of the plantain and banana fries, garnish with 3 mozzarella strips per potato and bake for 5 minutes at 350 °F.
Step 4/4
Sprinkle with pico de gallo, crumbled cotija, diced avocado, and lime wedges. Serve and enjoy!