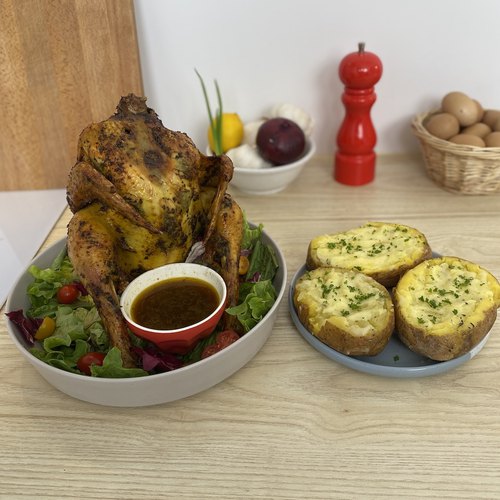 Roasted Chicken
This tasty chicken is delicious to bite into🍗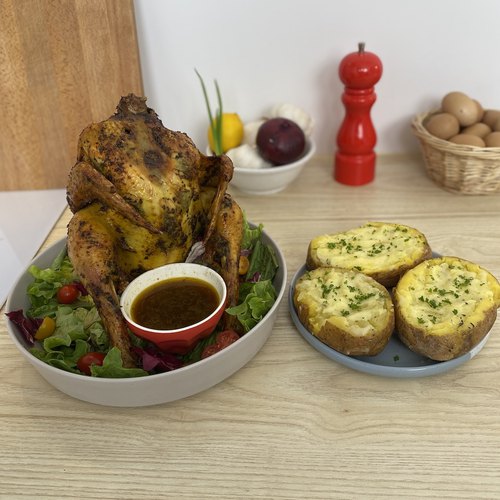 ---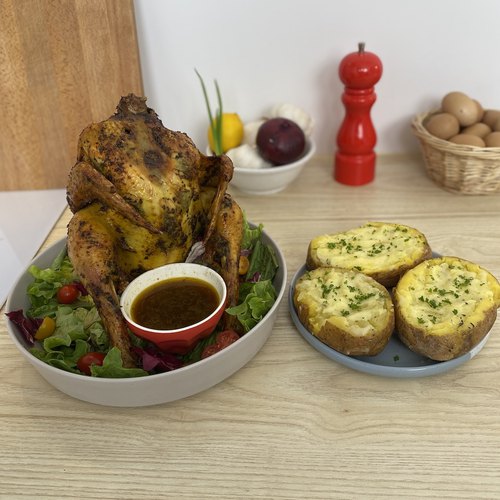 ---
Ingredients for 3 people
1 whole chicken
1 1/2 sticks butter
4 garlic cloves
3 potatoes
1 1/2 cups of white wine
chefclub roast chicken seasoning
5 rosemary sprigs
2 thyme sprigs
1 1/4 cups of grated cheese
parsley
---
Tools
Large skewer
Parchment paper
Baking dish
---
Step 1/3
Stick a skewer through the chicken, just above the thighs, and place in a pot of hot water at 200 °F to pre-cook the thighs for 15 to 20 minutes. Prepare the herb-flavored butter by crushing the softened butter with a fork and covering it in the parsley mixture. Place the butter on a sheet of parchment paper and fold the sheet over to flatten the butter. Place in the freezer for 1 hour.
Step 2/3
Wrap each potato in aluminum foil and bake for 1 hour at 350 °F. Place the chicken in the baking dish and pour in the white wine. Season with Chefclub Roast Chicken Seasoning. Place the empty wine bottle inside the chicken so that it sits upright vertically. Place rosemary springs, thyme sprigs, and garlic cloves in dish. Remove the parsley butter from the freezer and cut into long, thin strips. Cut slits in the chicken and then cut pieces of the frozen parsley butter to fit into the slits. Bake for 1 hour at 375 °F.
Step 3/3
Unwrap the potatoes and cut in half lengthwise. Make a grid with a knife, then place the remaining parsley butter in the grooves and sprinkle the potatoes with grated cheese. Mix the cheese with a fork and enjoy by dipping the potatoes in the cooking juice!
Similar recipes from Chefclub
-
Our other recipes