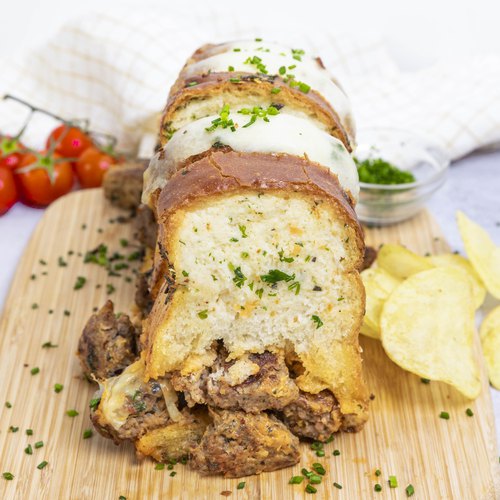 Garlic Bread & Meatball Sub
There's nothing butter than this 😍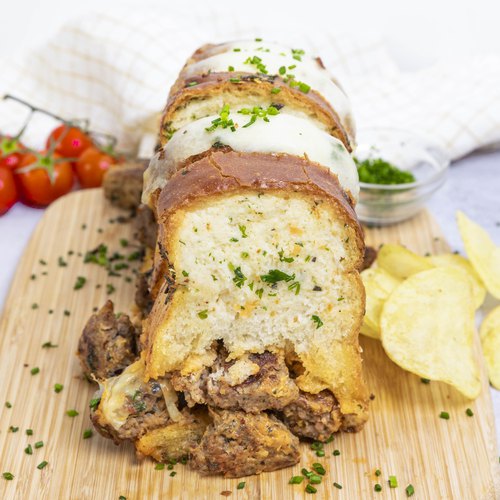 ---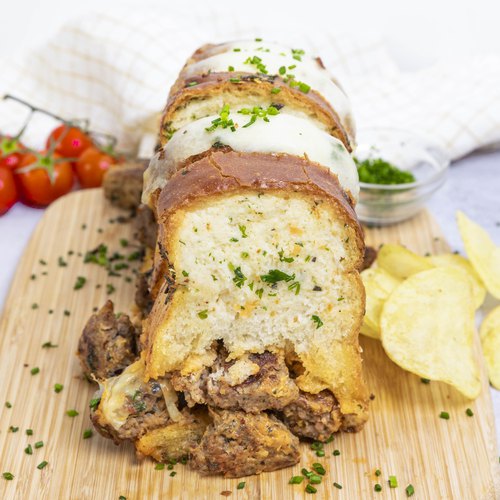 ---
Total time: 1 hour 15 minutes
Ingredients for 5 people
15 cherry tomatoes
2 onions, chopped
13 cloves garlic
2 tbsp of olive oil
1 tsp of oregano
1/2 tsp of red pepper flakes
salt & pepper
4 cups of butter (room temp)
1 tsp of fresh rosemary
1 tbsp of fresh parsley
1/2 cup + 2 tbsp grated parmesan
1 loaf bread (not sliced)
1/2 lb of ground pork
1 lb of ground beef
2 heads of roasted garlic
3 eggs
1/4 cup of breadcrumbs
2 tbsp of chefclub italian spice mix
1/2 cup of provolone
9 slices of mozzarella
---
Tools
Paper towels
Meat baller spoon
Blender or food processor
---
Step 1/4
Cut an 'X' pattern into the top of your tomatoes and cook in a frying pan, X side down, on medium high heat for 5 minutes. Then add in 1 tbsp water, cover, and cook 5 more minutes. Let cool and pull the skins off the tops of the tomatoes. In a blender, add 1 chopped onion, 3 cloves garlic, 2 tbsp olive oil, oregano, red pepper flakes, salt, cooked tomatoes, and their juices. Return to pan and let simmer on low heat and covered for 30 more minutes.
Step 2/4
Coat the room temperature butter in fresh chopped rosemary, parsley, 10 cloves minced garlic, salt, and 1/2 cup grated parmesan cheese. Chop in small squares, mix with hands, place in oven-proof bowl, and bake for 1 minute at 375 °F. Make 9 cuts in the bread loaf halfway through and down the entire length of the bread. Coat the bread in butter, place on a baking sheet, and bake for 15 minutes at 375 °F.
Step 3/4
Sautee the remaining chopped onion in olive oil over medium heat about 4 minutes. Let cool. In a mixing bowl, add the ground pork, ground beef, roasted garlic, eggs, sauteed onions, 2 tbsp grated parmesan, breadcrumbs, Italian spice mix, salt & pepper. Mix well and let chill 30 minutes. After, form meatballs with the help of a meat baller spoon. Cook the meatballs with the remaining butter and a dash of olive oil on medium high heat until the meatballs are browned. Set on paper towel to drain excess oil.
Step 4/4
Make a cut horizontal cut in the lower half of the bread loaf to open it up like a sandwich. Pour the marinara sauce over the open face of the bread, add the meatballs on top, and grate with provolone. Close the sandwich and place slices of mozzarella between each bread slice. Next, bake for 10 minutes at 375 °F. Slice and serve with the remaining marinara sauce. Enjoy!