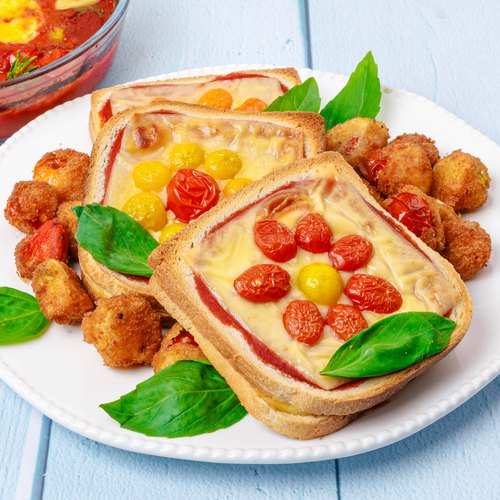 Italian Appetizer
Italian Appetizer! Mama Mia, what a delight 🍅🧀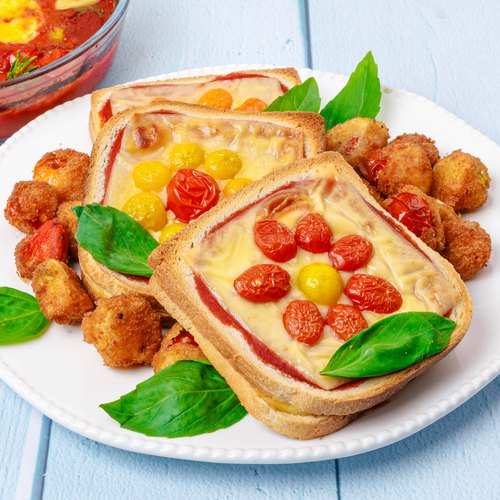 ---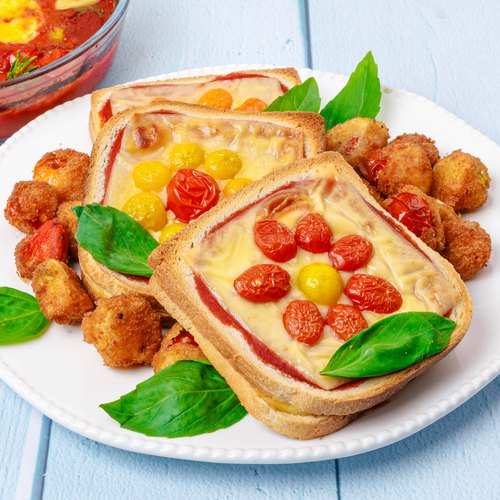 ---
Total time: 1 hour 25 minutes
Prep time: 40 minutes, Cook time: 45 minutes
Ingredients for 6 people
1 mozzarella
1 rosemary
42 cherry tomatoes
5 basil leaves
3 tbsp of olive oil
2.2 cups of tomato sauce
5 cloves garlic
1 pinch of pepper
3 1/2 tbsp of butter
6 slices of bread
9 string cheese sticks
3 slices of cheese
12 mini mozzarella balls
4/5 cup of flour
2 egg
1 3/5 cups of breadcrumbs
Oil
---
Tools
Skewers
parchment paper
---
Step 1/3
Place the mozzarella in a dish with the rosemary, heat the rosemary and cover the dish to infuse the burrata. Add 20 cherry tomatoes, the basil leaves, pour in the olive oil, the tomato sauce, arrange 3 cloves of garlic, season with pepper and bake for 20 minutes at 350°F.
Step 2/3
Melt the butter, cut 2 cloves of garlic into pieces, add them to the butter and mix. Cut 12 cherry tomatoes in 2. Brush the slices of bread with garlic butter, place the string cheese sticks in a square on a slice of bread, place the second slice on top, press in the center to form a space. Spread the tomato sauce in the space in the center, place a slice of cheese, form a flower with the half-cherry tomatoes, place a ball of mozzarella in the center then place the mini-pizza on a plate covered with parchment paper. Repeat the process to have 3 and bake for 15 minutes at 350°F.
Step 3/3
Cut the tops of 10 cherry tomatoes, empty the inside of the cherry tomatoes, place a ball of mozzarella in each tomato and skewer the garnished cherry tomatoes; Sprinkle the skewers with flour, dip them in the beaten egg, sprinkle them with breadcrumbs and fry them in hot oil. Place the mini-pizzas on a plate with the garnished cherry tomato croquettes. Serve with the mozzarella dish and enjoy!