Smoked Prime Rib
Smoker not needed for this perfect meal!
---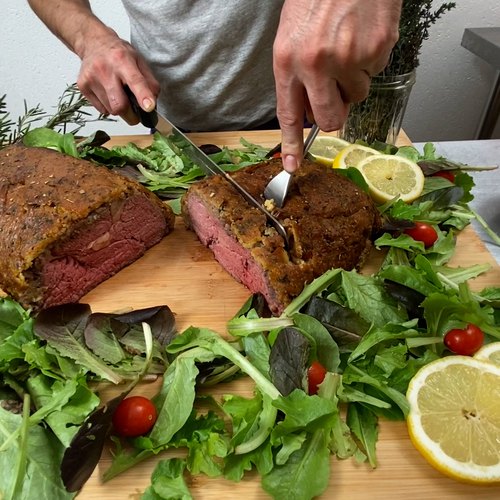 ---
Total time: 60 minutes
Ingredients for 4 people
Prime rib
2 lb red potatoes
Salt & pepper
4 tbsp melted butter
1 tbsp rosemary
1 tbsp thyme
2 garlic gloves
1 cup breadcrumbs
Meat thermometer
Gravy
Horshradish sauce
---
Tools
Foil
Parchment paper
Apple woodchips
Sheet tray
Cooling rack
Lighter
---
Step 1/3
Season the prime rib with salt and pepper. On a hot grill, sear each side of the meat. Set aside.
Step 2/3
Boil the red potatoes. Mash them with melted butter, herbs, chopped garlic, breadcrumbs, salt, and pepper. Using two pieces of parchment paper, flatten the mashed potatoes into a rectangle. Use the parchment paper to flip the mashed potato sheet over the prime rib ensuring the potatoes cover the meat completely.
Step 3/3
Cover a sheet tray with the woodchips. Place the meat on a cooling rack and place the cooling rack on top of the sheet tray. Roll out two long sheets of foil to create a large cross. Place the sheet tray in the center of the foil where the two pieces of foil overlap. Bring the edges of the foil to meet forming a tent around the sheet tray. Use the lighter to set the woodchips on fire. When enough smoke is created, extinguish the flames, then place in the oven. Bake 45 min per lb at 230 °F. A meat thermometer will read 125 °F for medium cooked meat. Let rest 10 minutes before carving slices. Enjoy with gravy or horseradish sauce.