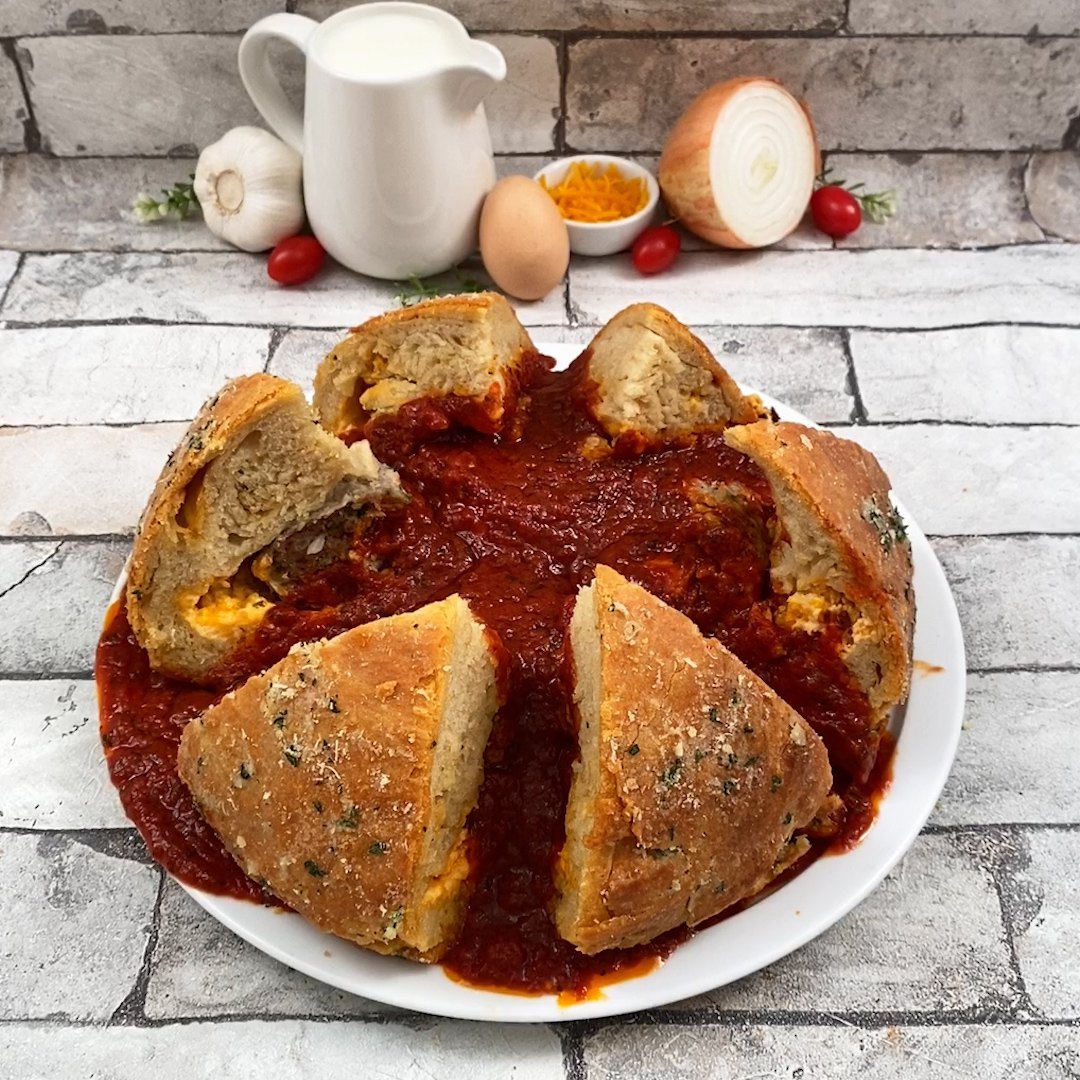 Meatball-Filled Garlic Bread
This garlic bread is meant for the masses! 😁
Total time: 60 minutes
Ingredients for 4 people
3 3/4 cups flour
1/4 cup yeast
2 tsp salt
1 1/2 cup water
1/2 cup breadcrumbs
3 tbsp
1/2 lb ground beef
1/2 lb ground pork
1/4 onion, chopped
1 tsp Italian herbs
Salt & pepper
Red pepper flakes
1 egg
1/2 cup grated parmesan
2 garlic cloves, minced
1/4 cup parsley
Garlic butter
1/2 cup grated cheddar
1 tsp garlic powder
Mozzarella ball
Tomato sauce
1/2 cup cream cheese
---
Tools
Plastic wrap
---
Step 1/4
In a mixing bowl, mix flour, yeast, salt, and water. Cover with plastic wrap and let rise over night. In the morning punch down. Let rest.
Step 2/4
Mix together ground beef, ground pork, parmesan, breadcrumbs, onion, milk, garlic, egg, parsley, salt, pepper, and Italian herbs. Form into a ball by placing plastic wrap in a small bowl and adding meat mix. Place mozzarella ball in center then close meat using the plastic wrap and chill. Mix together cream cheese, cheddar cheese, and garlic powder. Set aside.
Step 3/4
Brush a large, oven-safe, bowl with melted butter. Press dough into the bowl using flour to prevent sticking crating a crater allowing extra dough to hang over the sides. Spread with garlic butter, then a layer of the cheese mix. Place the meatball in the center. Fold the over hanging dough to cover the meat ball and to seal everything in. Bake 1 hour at 350 °F.
Step 4/4
Remove from oven. Once cooled, flip and remove the bowl. Cut open and pour over with tomato sauce. Serve warm.