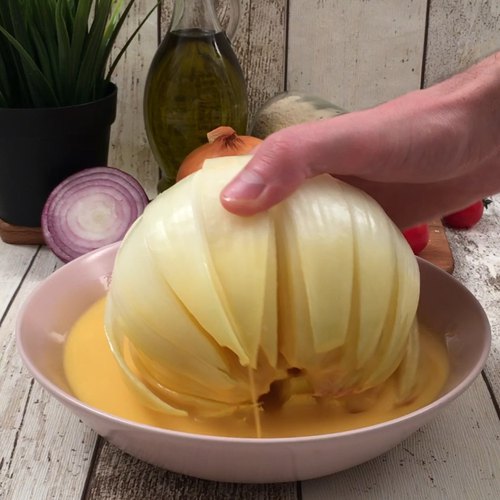 Loaded Blooming Onion
The most beautiful fried onion you've ever seen. 😋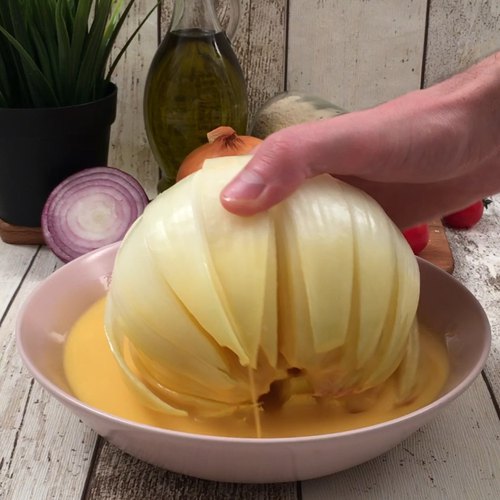 ---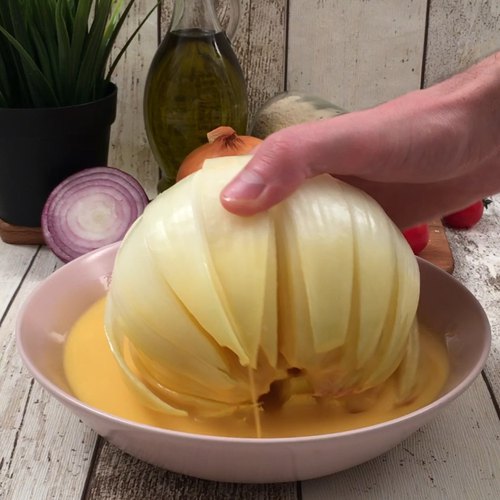 ---
Ingredients for 4 people
1 extra large onion
4 eggs, beaten
1 cup of breadcrumbs
2 teaspoons paprika
1 teaspoon garlic powder
1 teaspoon onion powder
1 teaspoon salt
vegetable oil
1 pound of rumsteak, cut
1 pizza dough
1 package of provolone cheese
thousand island dressing
parsley, for garnish
---
Tools
Shot glasses
Parchment paper
---
Step 1/4
Peel the onion and cut the onion into 16 equal parts starting from the root, without slicing through the bottom completely. Dip the onion into the eggwash, covering it completely.
Step 2/4
In a bowl, combine breadcrumbs, paprika, garlic powder, onion powder and salt. Cover the entire onion in the breadcrumbs and fry.
Step 3/4
Season the steak with salt and pepper, cut into large equal cubes and sear both sides in a frying pan. Place the meat along the inside edge of the pizza dough and cover it with the outer edge of the dough. Make a slice between each piece of meat and twist sideways so that the steak is visible on top. Place the slices of cheese in the center of the dough, place the onion on top and place a shot glass in the center of the onion. Bake for 15 minutes at 350 °F.
Step 4/4
Replace the hot shot glass with another one and fill it with thousand island dressing. Garnish with parsley, dip and enjoy.