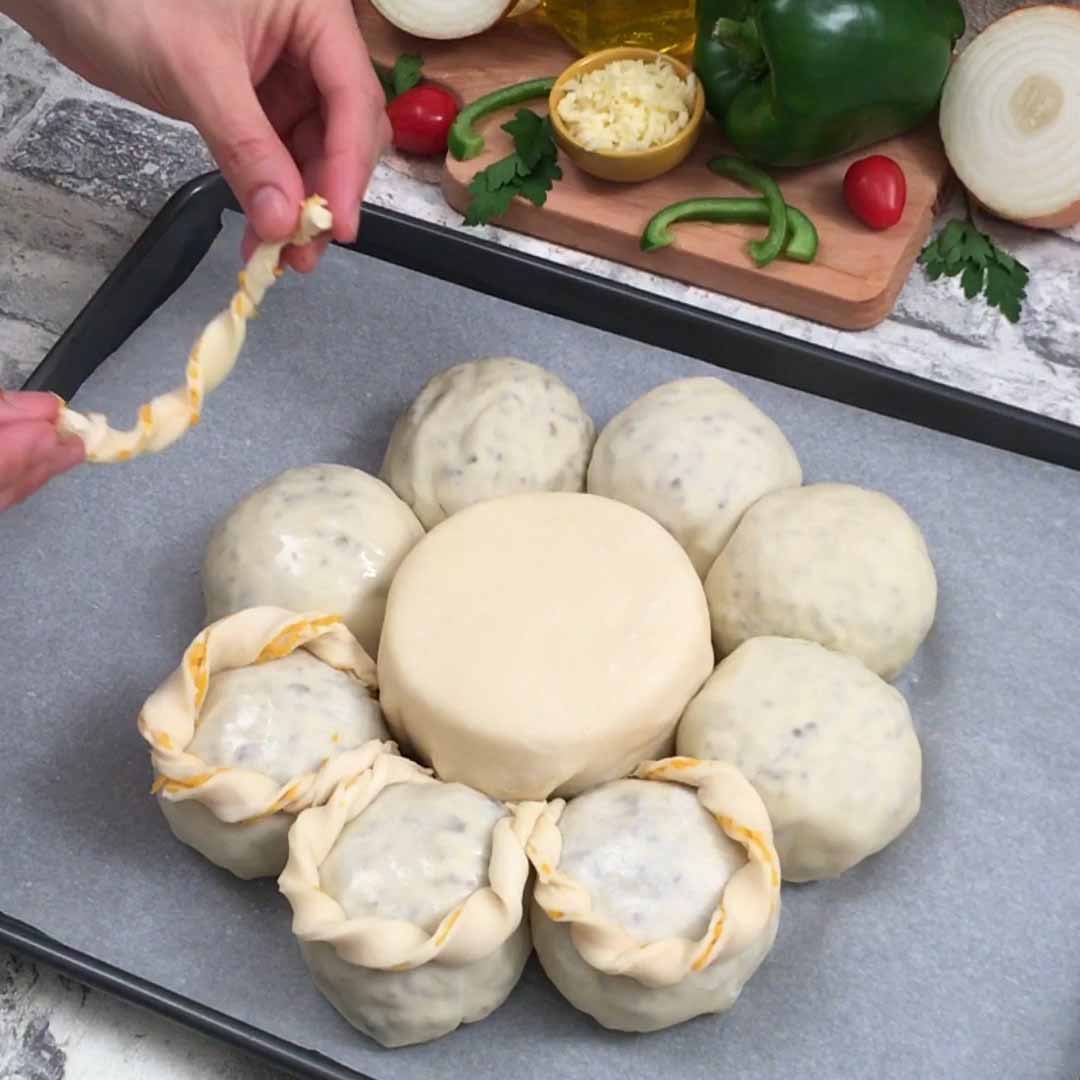 Philly Cheesesteak Flower
It's both a centerpiece *and* dinner!
Total time: 60 minutes
Ingredients for 4 people
3 green bell peppers, diced
Olive oil
2 onions, diced
2 lbs ground beef
2 TBSP Chefclub Italian spice mix
Salt & pepper
2 tbsp Worcestershire sauce
1 beer
Pizza dough
20 slices provolone cheese
1 cup grated cheddar cheese
Water
2 tbsp poppy seeds
1 tbsp sesame seeds
Parsley, for garnish
---
Step 1/4
In a pan add olive oil, green bell peppers, onions, ground beef, Worcestershire sauce, salt and pepper. Once meat is browned, add beer. Cook until beer is reduced.
Step 2/4
Cut 9 rounds out of pizza dough and divide the ground beef mixture between all 9. Place a slice of provolone on top of the beef, then seal the dough and roll into a ball. Cut 1 slightly larger round out of pizza dough and stack remaining provolone cheese into the center, close and turn over onto parchment-lined baking sheet.
Step 3/4
Place the 9 beef-filled balls around the larger provolone ball. Using remaining pizza dough, sprinkle 1/2 with cheddar cheese and fold over. Slice into 9 strips and twirl each one. Brush the beef-filled balls with water and adhere one twirled strip in a half circle on each one. Decorate the center of each ball with poppy seeds. And do the same with sesame seeds on the large center ball. Bake for 30-40 minutes at 350 °F, or until dough is cooked and golden.
Step 4/4
Garnish with parsley. Slice the top of the provolone center and dip the balls in. Enjoy!