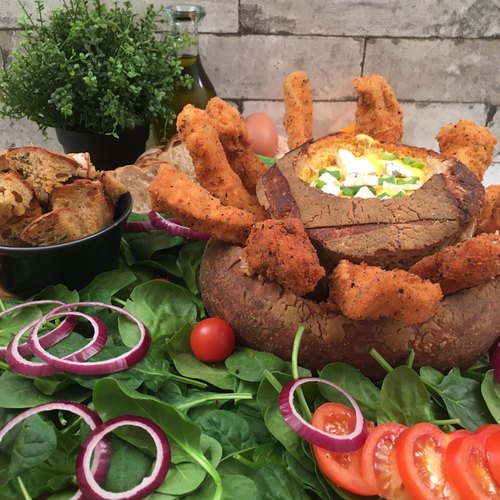 Buffalo Chicken Bread Bowl
Party ready! 🥳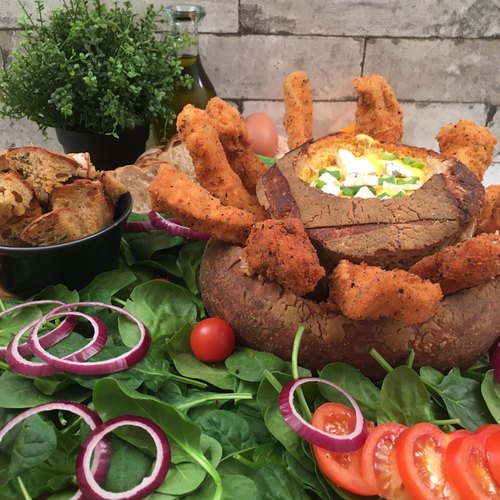 ---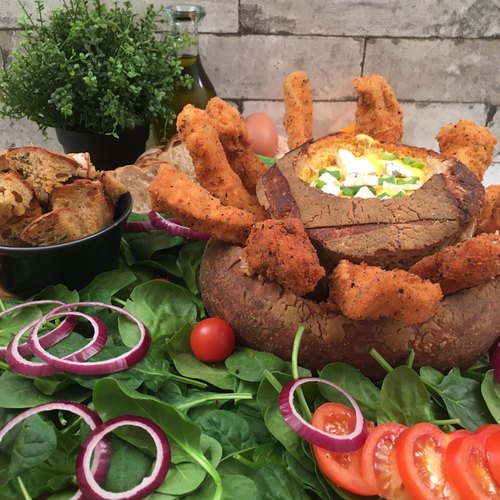 ---
Ingredients for 4 people
1 round loaf sourdough bread
8 oz of cream cheese
2 cups of grated cheddar
1 cup of shredded chicken
1/2 cup of ranch
1/2 cup of buffalo sauce
10 chicken enders
4 eggs
1 2/3 cups of seasoned breadcrumbs
1 green onion
1/4 cup of blue cheese, crumbled
salt & pepper
---
Tools
Parchment paper
---
Step 1/3
Hollow out the center of the loaf of bread and cut a strip from the middle of the loaf that goes all the way around. Cut the offcuts from the middle ring of bread into small cubes.
Step 2/3
Combine the cream cheese, grated cheddar, salt, pepper, shredded chicken, ranch, and buffalo sauces. Pour mixture into the hollow center of the bread and cover with the cutout top. Bake the loaf and bread cubes on a baking sheet covered with parchment paper for 20 minutes at 350 °F.
Step 3/3
Bread the chicken tenders by coating them in flour, followed by beaten egg and breadcrumbs and then fry them till golden brown. Arrange the fried tenders in the middles slice of the bread loaf when it come out of the oven. Remove the bread top, sprinkle the dip with chopped green onion and the blue cheese, and enjoy by dipping the bread cubes and chicken tenders in the buffalo dip!