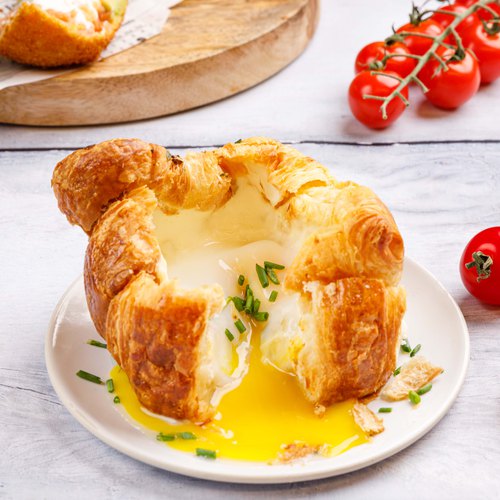 Crispy Croissant Brunch
Crispy Croissant Brunch! Just add avocado, salmon, and maybe mimosas!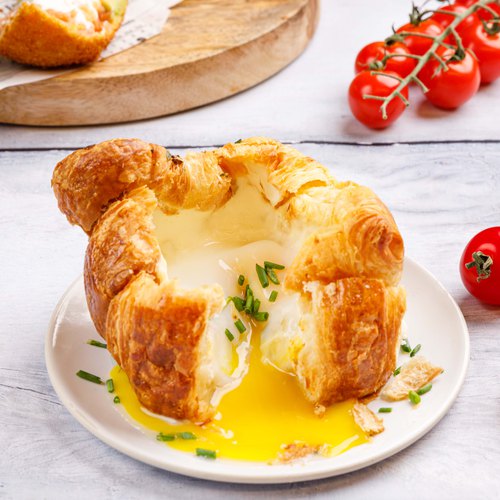 ---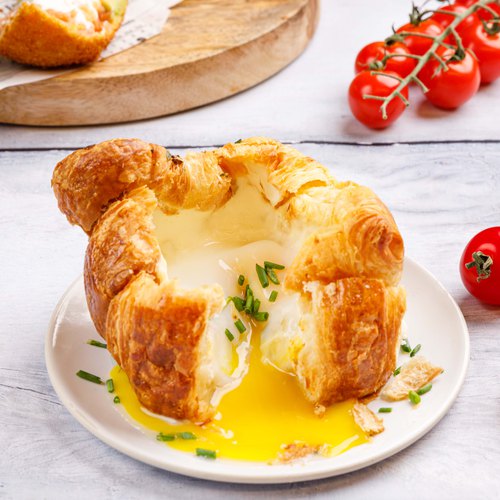 ---
Total time: 1 hour 40 minutes
Prep time: 20 minutes, Cook time: 20 minutes, Rest time: 1 hour
Ingredients for 3 people
3 croissants
5.3 oz of cream cheese
3 tsp of spices
6 egg
2 avocado
5.3 oz of smoked salmon
4/5 cup of flour
1 cup of breadcrumbs
Chives
Oil
---
Tools
Ramekins
Cling wrap
---
Step 1/3
Cut the croissants in half and place them in ramekins, spread cream cheese inside, then sprinkle with seasoning. Pour 1 egg into the center of each croissant and bake for 20 minutes at 350°F.
Step 2/3
Roll 4 slices of smoked salmon and cut them into small pieces. Cut the avocados in half widthwise. Peel them and set them aside. Use an ice cream scoop to fill the avocados with a ball of cream cheese. Place pieces of salmon around the cheese ball, and wrap the avocado in plastic wrap to shape it like an egg. Place it on a plate and repeat with each avocado. Freeze for 1 hour.
Step 3/3
Coat the avocados in flour, the remaining beaten eggs, and breadcrumbs. Fry them in hot oil and set aside on a plate. Cut the avocados into quarters, serve with the croissant cocotte, and sprinkle with chives. Serve and enjoy!