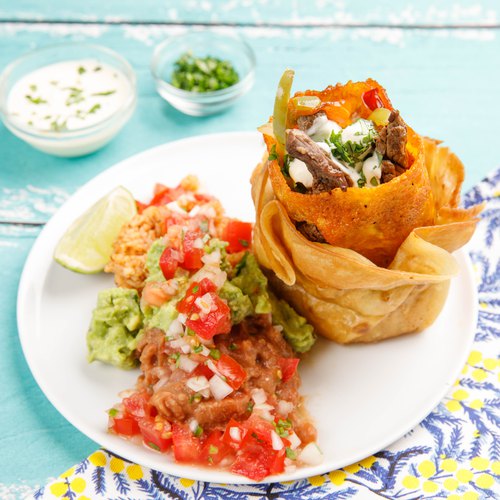 Tortilla Bowl
Who needs a bowl when you have tortillas!? 🌮🥩😍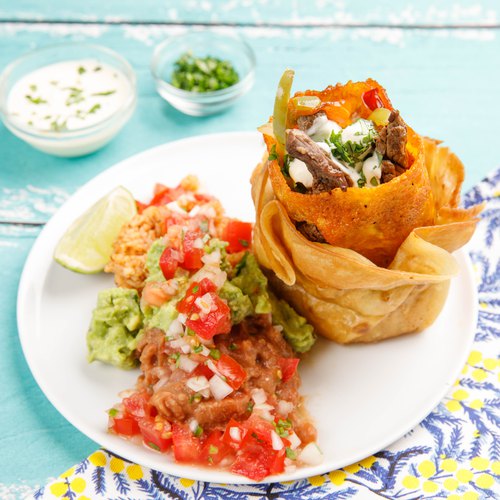 ---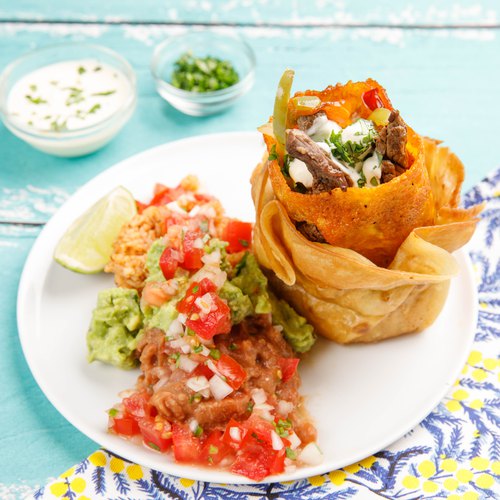 ---
Total time: 1 hour 30 minutes
Prep time: 45 minutes, Cook time: 45 minutes
Ingredients for 4 people
4 flour tortillas (10 inch)
frying oil
1 red bell pepper
1 green bell pepper
1 yellow bell pepper
1 onion
1 lb of flank steak
olive oil
salt & pepper
tex-mex spice
6 cheddar slices
sour cream
cilantro
spanish rice
refried beans
guacamole
pico de gallo
---
Tools
Tin cans
Kitchen twill
Cooling rack
Ladle
Electric griddle
---
Step 1/4
Heat frying oil to 350 °F in a large pot. Turn 2 tin cans upside down, place a flour tortilla on top of each one, and secure the sides with kitchen twine. Place a metal cooling rack across the pot, then place the cans on top. Use a ladle to pour oil over the tortillas continuously until they are golden brown in color. Sprinkle with spice mix, let cool, then remove the can. Repeat with remaining tortillas.
Step 2/4
Cook the sliced bell peppers and onions on the electric griddle with olive oil over high heat. Then add the thinly sliced flank steak and continue cooking until the meat is medium-rare to medium (or to taste). Set aside in a bowl.
Step 3/4
Place 3 slices of cheddar to the electric griddle side by side and let caramelize slightly. Next add half of the veggie mix to one end of the cheese rectangle, roll, and remove from the griddle. Repeat with the remaining cheese slices and veggie mix, then cut the two rolls in half so that you have four rolls.
Step 4/4
Place the rolls in the tortilla bowls, remove the kitchen twine, and garnish with sour cream and cilantro. Serve with Spanish rice, refried beans, guacamole, and Pico de Gallo. Enjoy!