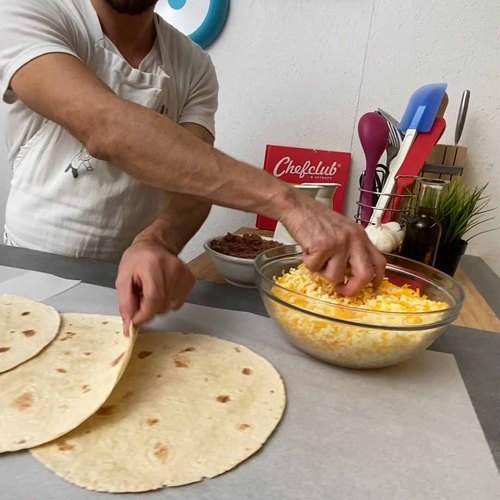 Barbacoa Spiral
A giant chimichanga made for sharing!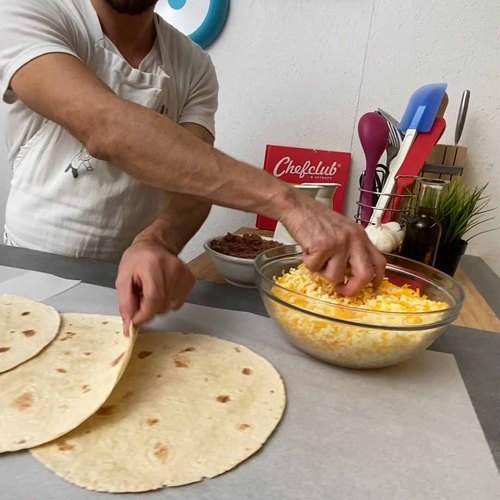 ---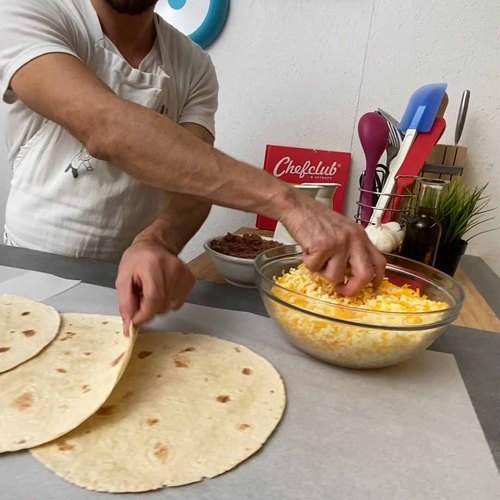 ---
Ingredients for 8 people
3 lb of beef cheeks
onion
5 garlic cloves
4 guajillo chile
2 chile de árbol
1 cup of water
salt & pepper
1/2 tsp of cumin
1 tbsp of oregano
flour tortillas
refried beans
colby jack cheese
4 cups of beer
salsa verde
scallions
pico de gallo
avocado
vegetable oil
chives
---
Tools
Clothes pins
Cooling rack
Skewers
Ladles
Kitchen twine
Dish towel
Large pot
Blender
---
Step 1/3
Grill the chilis, garlic, and onions, then place in a blender with the water, cumin, oregano, salt, and pepper. Blend until smooth, then add to a large pot with the beef and beer. Cook low between 10-12 hours. The beef will be tender enough to shred with fingers.
Step 2/3
Line up the tortillas so that they are slightly overlapping each other. Add shredded cheese between the layers. Spread refried beans over the tortillas, then cheese, beef, salsa verde, scallions, pico de gallo, and avocado. Use parchment paper to roll up the tortillas using clothes pin to keep them together. Use more tortillas to seal the edges as you spiral the giant chimichanga. Place skewers in the spiral to hold it in place.
Step 3/3
Poke holes in a tortilla and place it along with the spiral on a round cooling rack. Using three ladles with a hooked end, hook the ladles to the cooling rack. Join them together above the cooling rack with kitchen twine. Cut a dish towel into three long strips. Tie each strip to a ladle, then join them together. Dip the cooling rack with the spiral on it into hot oil. Fry until golden brown. Remove skewers and top with cheese. Bake for 5 minutes at 350 °F until cheese is melted. Garnish with chives and enjoy!
Similar recipes from Chefclub
-
Our other recipes