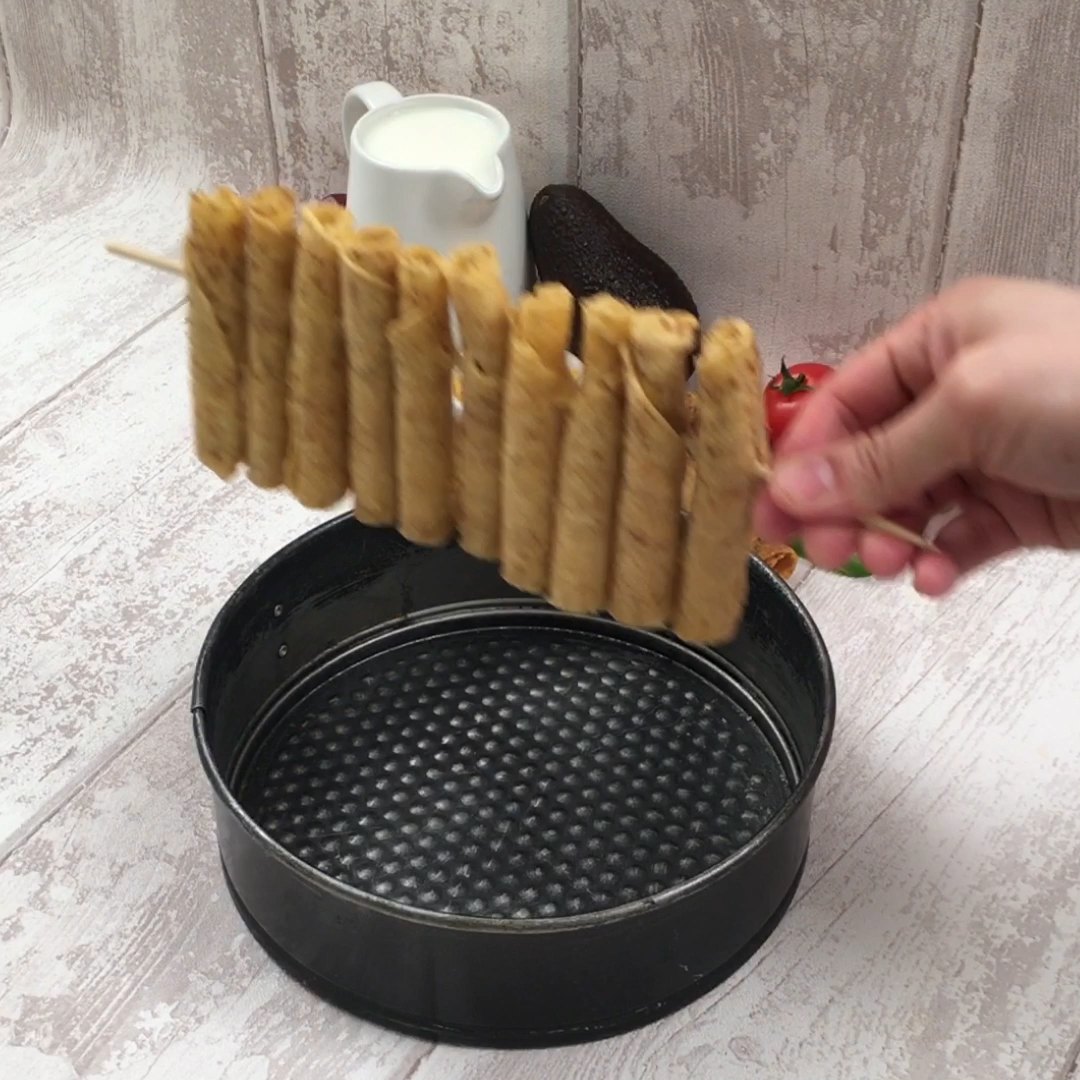 Wheel of Taquitos
Dipping fantastic! 💁‍♀️
Total time: 45 minutes
Ingredients for 8 people
1 box of taquitos
1 can refried beans
1 cup milk
1 brick (8 oz) cream cheese
1 1/2 cups cubed cheddar
1/2 onion, diced
1 tomato, diced
1 jalapeño, diced
Salt & pepper
Cilantro
2 avocados
1/2 red onion, diced
1 lime, juiced
Sour cream, for garnish
Salsa, for garnish
Grated cheddar, for garnish
Black olives, for garnish
Scallions, for garnish
---
Tools
2 skewers
---
Step 1/3
Line up your taquitos then skewer each side, cut in half. Place in spring-form pan to create an X. Fill 1 hole with refried beans, fill 1 hole 1/2-way. full of refried beans.
Step 2/3
In a sauce pan, add cream cheese, milk, and cubed cheddar. Stir until melted. Add diced tomatoes, onion, cilantro, and jalapeños to taste. Fill the remaining two holes with the queso dip, one all the way, one 1/2-way. Bake for 30 min 350 °F.
Step 3/3
Mash avocados mix with diced red onion, jalapeño, tomato, salt, cilantro, and lime juice. Place guacamole on top of 1/2 filled queso spot. Cover 1/2 full refried beans with sour cream and salsa, garnish with cheddar and black olives. Garnish the remaining refried beans with a little sour cream and scallions. Remove skewers and enjoy!