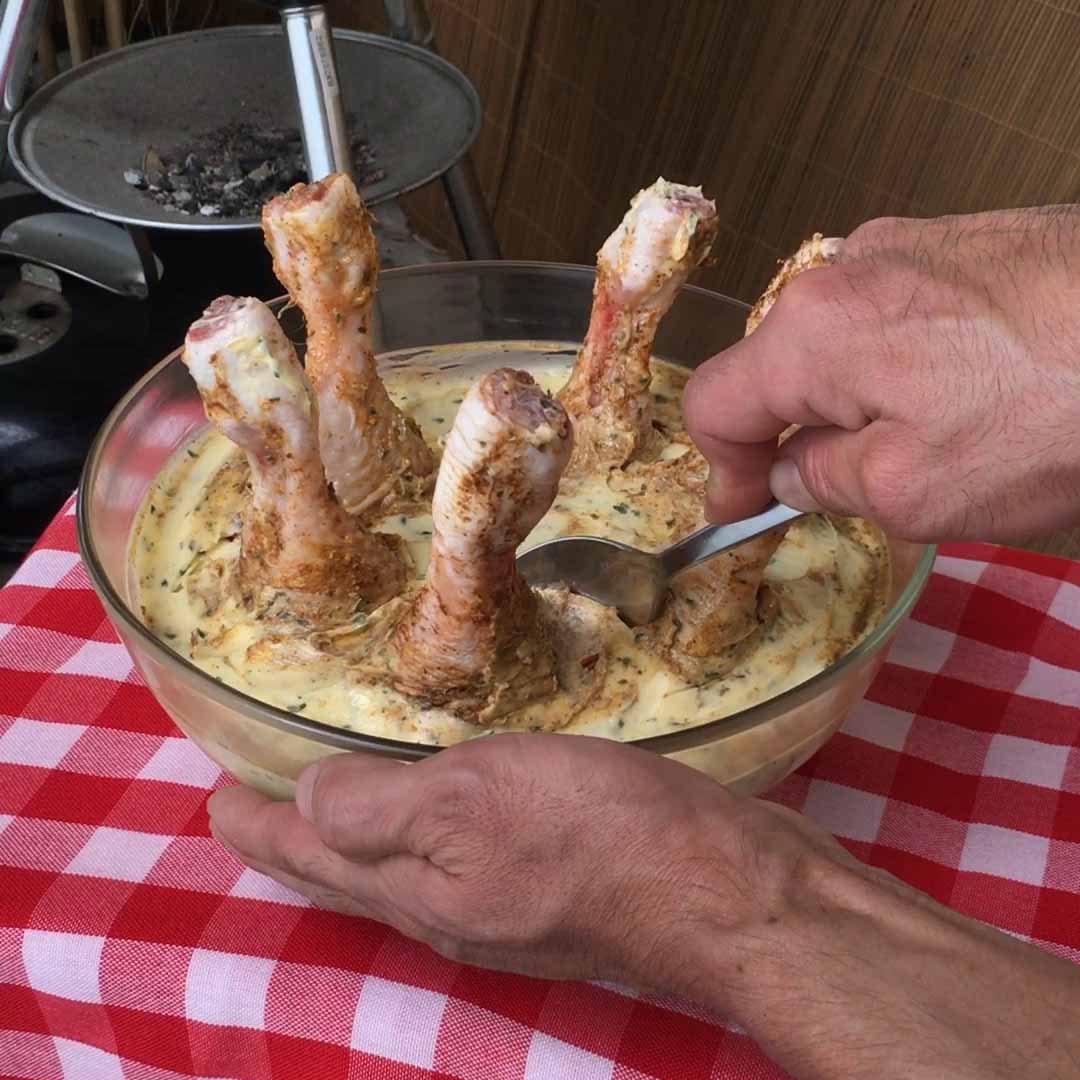 We're Barbecuing with Butter
Get ready to hop on the flavor town express! 🔥🤤🥩🍗
Total time: 30 minutes
Ingredients for 6 people
Steak
Bacon
Compound butter
Salt & pepper
Grilled onions, for garnish
Cooked pork
Barbecue sauce
Pineapple, peeled and cored
Bacon slices, woven
Tortillas
Cilantro, for garnish
Hot sauce, for garnish
3 seasoned chicken breasts
Bell peppers, sliced
4 cups butter
3 tbsp parsley, chopped
3 tbsp garlic powder
White wine, about 1/2 cup
Pre-seasoned chicken drumsticks
---
Tools
Skewer
Kitchen twine
---
Step 1/4
Butter-Stuffed Steak: Cut open steak, and use hand to ensure it's well separated. Place a row of bacon, then stuff with compound butter (choose your favorite flavor) and sew shut buy tying kitchen twine around a skewer. Grill to desired level of doneness. Remove twine and serve with grilled onions and bread.
Step 2/4
Easy Pork Tacos: Season cooked pork with barbecue sauce, salt and pepper. Stuff the pineapple with pork and place top back on. Secure with skewers. Wrap pineapple in bacon (can be woven or just wrapped around). Grill until bacon is cooked and pineapple is soft, then transfer to a cutting board and chop everything up. Put the mix in a tortilla shell and add cilantro and hot sauce for garnish. Enjoy!
Step 3/4
Easy Chicken Kebabs: Flatten seasoned chicken breasts and fill with sliced bell peppers roll, repeat 3 times. Place the chicken breast rolls in rows and place skewers about 1-inch apart. Cut between the skewers and grill. Serve with your favorite barbecue sauce.
Step 4/4
Butter-Smoked Drumsticks: Mix 4 cups of room-temp butter with parsley, garlic powder, and salt and pepper to taste. Add white wine, little by little, until you get a homogeneous mixture, it should be about 1/2. Place drumsticks into this mix then let chill until ready to cook. When you're ready to cook, remove from the butter mix and place on grill. The butter will melt and make a juicy, smoked drumstick. Enjoy!