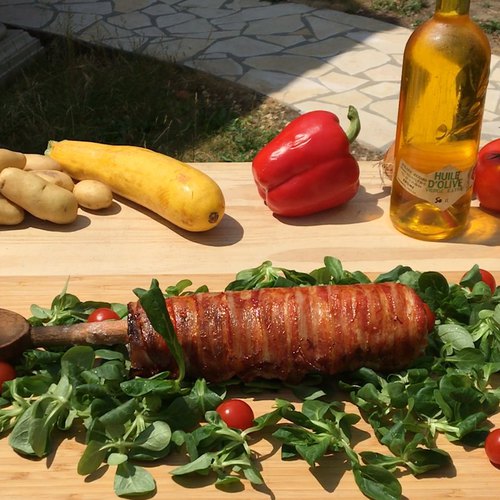 Allez Barbecue
Allez Barbecue! Turn your backyard into Kitchen Stadium! 😎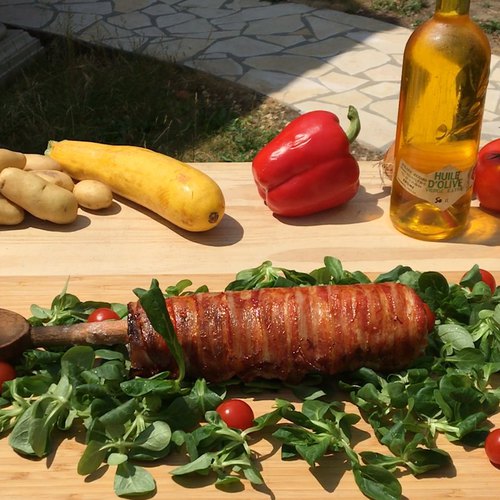 ---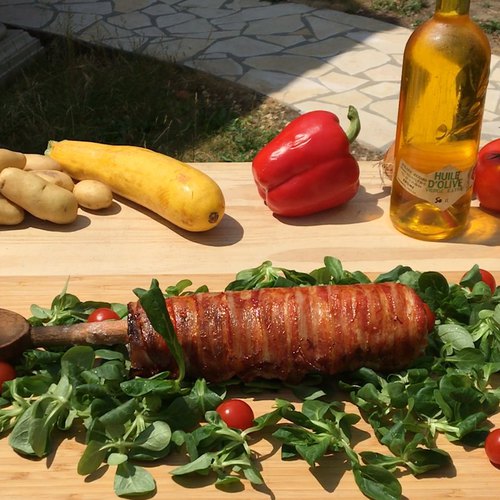 ---
Ingredients for 4 people
chicken breasts
ham
swiss cheese
bacon
rump roast, 4-inches tall
cheddar
caramalized onions
eggplants
ground beef
olive oil
tomatoes
brie or camembert cheese
prosciutto
herbes de provence
---
Tools
Grill
Forks
Plastic wrap
Wooden spoon
Egg carton
Charcol
---
Step 1/6
DIY Rosting Spit: Place 4 upside down forks facing each other 2 to 2 in the grill of a barbecue. Place 6 chicken fillets on a sheet of plastic wrap to form a large rectangle. Place 3 slices of ham and 4 slices of Swiss cheese on this rectangle. Place 1 wooden spoon along the length of the rectangle and roll it up around the spoon. Remove the cling film and wrap slices of bacon around the sausage. Place the sausage on the barbecue, balancing the spoon at the intersection of the forks. Cook while stirring, then enjoy.
Step 2/6
Meat Star: Cut 1 rump roast, cutting diagonally so that it forms a star when it opens. Cook 1 side on the barbecue, turn over and place slices of cheddar cheese on the star. Let melt then enjoy with caramelized onions.
Step 3/6
Stuffed Eggplant: Cut 1 eggplant in half lengthwise. Cut a fairly deep grid in the skin of both halves. Stuff the notches with seasoned ground beef, pour a drizzle of olive oil over them, add salt and pepper and cook on a covered barbecue.
Step 4/6
Ground Beef Roll-up: Season 1/2 pound of ground beef with salt and pepper and spread it in a large rectangle on cling film. Place 1 row of cheddar cheese slices on top, then place diced tomatoes and chopped onion on top. Roll the rectangle on itself lengthwise, tightly wrapping the sausage with cling film. Remove the film and wrap bacon slices around the sausage. Grill on the barbecue and enjoy.
Step 5/6
Quick-Light BBQ: Fill 1 egg carton with charcoal and close it. Set the egg carton on fire to light your barbecue.
Step 6/6
Grilled Cheese: 6 Place 1 Camembert or Brie cheese on 3 slices of prosciutto, sprinkle it with Herbes de Provence then cover it with 3 other slices of ham. Fold the ham so that it perfectly covers the cheese. Cook on the barbecue on a sheet of baking paper and then enjoy.
Similar recipes from Chefclub
-
Our other recipes