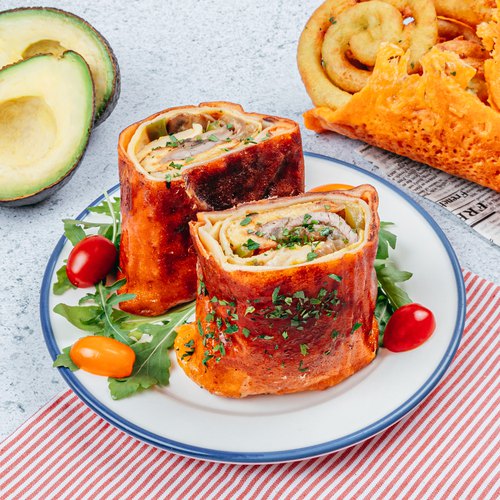 Cheesesteak Breakfast Burrito
Cheesesteak Breakfast Burrito! With avocado & potato fries 🍟🌯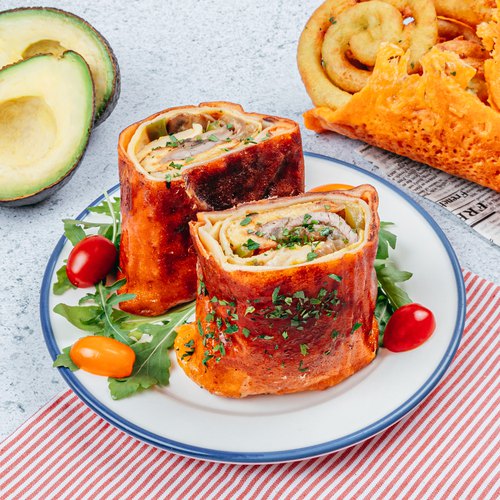 ---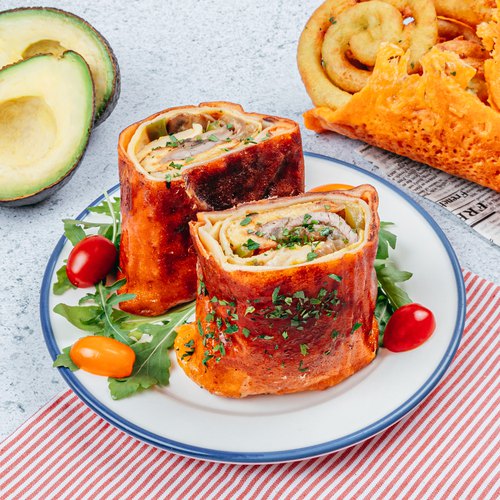 ---
Total time: 30 minutes
Cook time: 30 minutes
Ingredients for 4 people
Steak
Butter
Provolone
Garlic
Grilled vegetables
Tortilla
Hot dog buns
Egg
Salt & pepper
Chives
Cheddar
Mashed potatoes
Avocado
Oil
---
Step 1/5
Grill the steak and vegetables. Place a large slice of provolone over the vegetables and allow to melt.
Step 2/5
In a pan toast the buns with garlic butter and herbs. Beat eggs with chives, salt and pepper. Pour around the buns. Place a tortilla on top. Flip, add the steak and cheesy vegetables. Fold into a burrito.
Step 3/5
Add shredded cheddar to the grill and allow to melt. Place the burrito on top and wrap with the melted cheese.
Step 4/5
Mix mashed potatoes with avocado. Season with salt and pepper. Place in a piping bag and allow to freeze. Create spirals and fry in hot oil until golden brown.
Step 5/5
Melt cheese on the grill and place around a cone made of foil. Allow to harden. Place the fried mashed potatoes and avocado in the cheese cone. Serve with the burrito and enjoy!