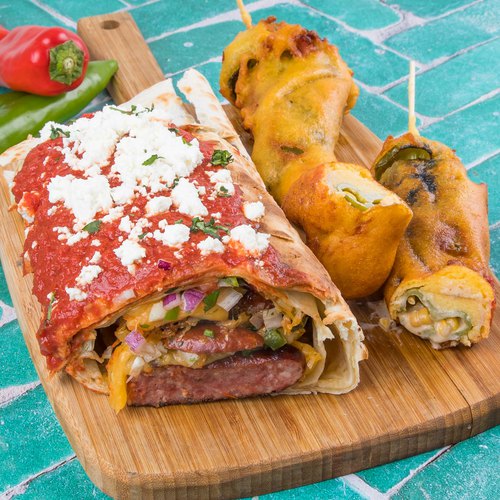 Fried Peppers & Enchilada
Fried Peppers & Enchilada! Spicy and delicious 🤩🌯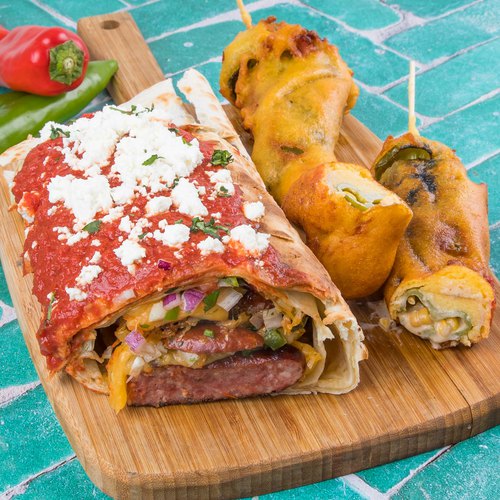 ---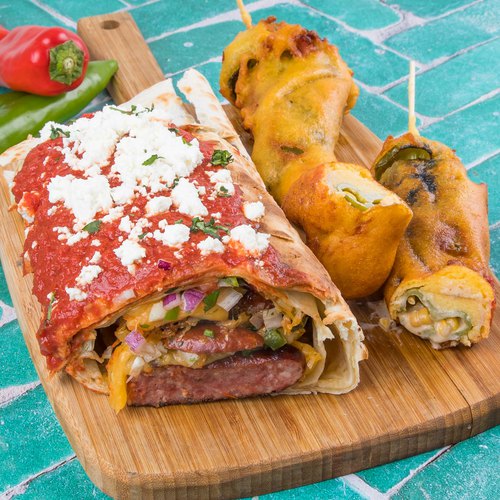 ---
Total time: 2 hours
Cook time: 2 hours
Ingredients for 5 people
17 1/2 oz of corn kernels
1 cup of sour cream
1 cup of mayonnaise
1 lime juice
1 tbsp of garlic powder
Salt & pepper
1/2 cup of tajin
12 chorizo sausages
1 1/2 cups of shredded cheddar
2 cups of pico de gallo
6 cups of corn dog batter
10 1/2 oz of enchilada sauce
1/4 cup of cojita cheese
Cilantro
Potato
Jalapeños
10 slices of bacon
Frying oil
3 tortillas
---
Tools
Skewers
Toothpicks
Piping bag
---
Step 1/4
Grill the corn, then remove the kernels. Mix the corn with mayonnaise, sour cream, garlic powder, salt, pepper, lime juice and tajin powder. Place in piping bag and set aside.
Step 2/4
Take the jalapeños and remove the seeds through the top. Fill the peppers with the corn mixture and then close the top back with toothpicks. Stick a skewer through the top to the bottom and place a small piece of potato on the bottom to secure in place.
Step 3/4
Cover the peppers in corn dog batter and sprinkle with bacon pieces. Fry in hot oil until golden brown. Remove and set aside.
Step 4/4
Take the chorizo links and grill one side. Flip the sausages and cover with shredded cheddar and pico de gallo. Allow the cheese to melt completely. Remove from heat and cut down the middle. Place 3 large flour tortillas on the grill and place the chorizo inside the tortillas (making two layers). Close up the tortilla and remove from grill. Add enchilada sauce on top, cojita cheese and cilantro. Serve with the stuffed peppers and enjoy!