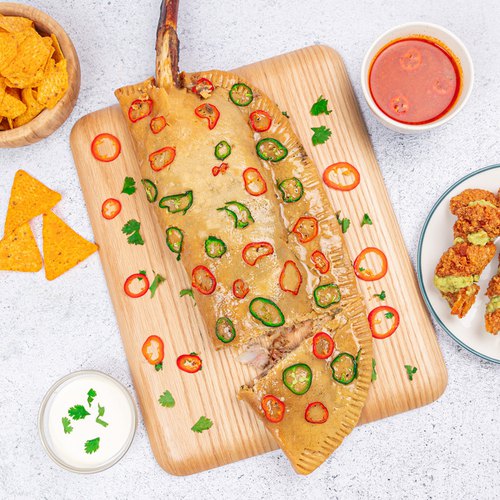 Spicy Short Rib Quesadilla
Spicy Short Rib Quesadilla! Go on, live a little 😉🌯🌶️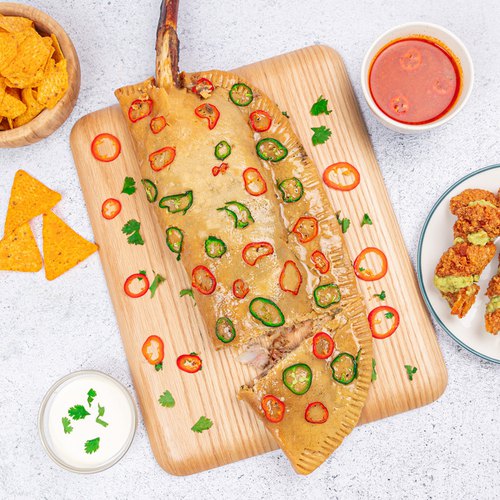 ---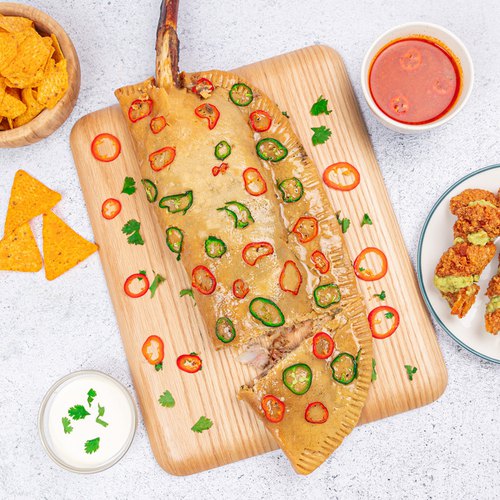 ---
Total time: 50 minutes
Rest time: 50 minutes
Ingredients for 4 people
3 cups of masa
6 cups of water
4 jalapeños
1 beef ribs
1 cup of cheese
1/2 cup of cilantro
1 cup of flour
1 oaxaca cheese
3 egg
2 bags of doritos
2 cups of guacamole
2 cups of salsa
Oil
---
Tools
Tortilla press
---
Step 1/3
Take the masa and add the water to make the dough in a mixing bowl. Divide the dough into balls and use a tortilla press to smash down. Add the sliced jalapeños on top. Place the meat followed by the herbs and cheese. Cover with the rest of your pressed tortillas to form an enchilada. Place in the freezer for 30 minutes.
Step 2/3
Heat the oil.Take your oaxaca cheese and pull apart to form long bands of the cheese. Bread in flour, egg yolks, and then smashed doritos. Wrap around wooden spoons and place in the freezer to set for 20 minutes.
Step 3/3
Take the enchilada from the freezer and pan fry until golden brown on both sides. Then take the cheese rolls and do the same thing in the pan. Once the cheese rolls have cooled, remove the spoon and garnish with guacamole. Serve with a side of salsa and enjoy!