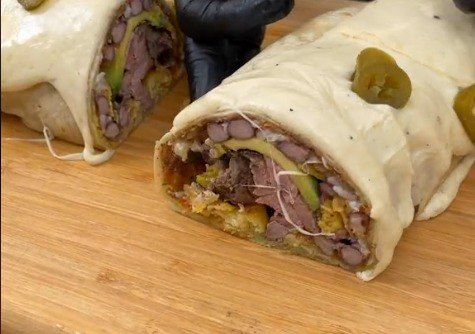 Stuffed Steak Quesarito
Stuffed Steak Quesarito! This recipe is going to guac you world 😁🌯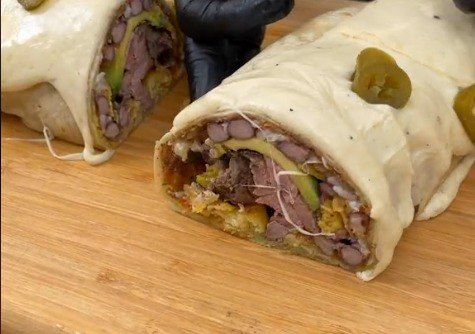 ---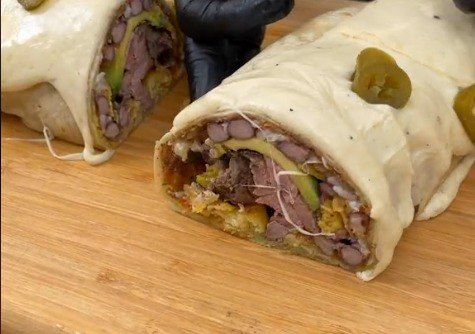 ---
Total time: 1 hour 30 minutes
Prep time: 40 minutes, Cook time: 50 minutes
Ingredients for 3 people
Salt & pepper
Black peppercorns
2 red bell pepper
3 1/2 tbsp of cream cheese
1 tbsp of grated cheddar
1 pinch of garlic powder
1 pinch of espelette pepper
1 beer
3 onions
1 yellow bell pepper
1 green bell pepper
3 tortillas
1 cup of guacamole salsa
4 cups of shredded monterey jack
1 tsp of cilantro
1/2 cup of sour cream
1 cup of rice
1/2 cup of cooked beans
1/2 avocado
1 cup of queso
1/2 cup of tortilla chips
1/2 lb of rumsteak, cut
1/2 tbsp of radish
2 jalapeños
---
Step 1/3
Roll the steak over a thick coat of black pepper and salt. Mix the cream cheese with the shredded cheddar, salt, pepper, garlic powder and espelette pepper. Slice a red bell pepper lengthwise and fill it with the cream cheese mixture. Cut an opening in the middle of the steak and fill the cavity with beer. Place the stuffed pepper in the hole.
Step 2/3
On a hot griddle sear the steak on all sides. Take a baking dish full of cooked onions and bell peppers. Place the seared steak on top. Wrap the dish in foil and bake for 20-30 minutres at 350°F.
Step 3/3
Spread shredded monterey cheese over the hot griddle. Dip tortillas in guacamole and salsa mixture. Place over the cheese. Once cooked remove from the griddle. Place the tortillas cheese side up on a flat surface. Pour sour cream over it as well as some cilantro, cooked rice, beans and crushed chips. Place sliced radishes and sliced avocado on top. Add slices of the stuffed steak. Roll everything into a burrito and pour some melted queso over your it. Add some jalapeños slices on top and enjoy!